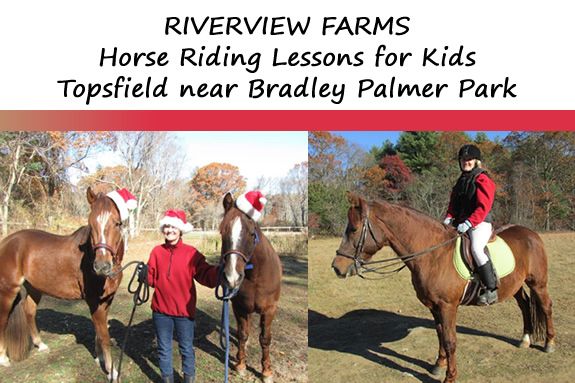 Jane Fraher, owner of Riverview Farms in Topsfield, is accepting students for the 2017 Equestrian Summer Program for boys and girls ages 7 - 15.
Jane makes the program fun with a variety of activities offered in addition to daily riding lessons. The kids will learn horse care and handling; parts of the horse and tack and kids will gain the self-discipline required to understand and control the horse which instills a sense of responsibility and enhances task concentration in the rider. Jane hosts fabulous and fun pizza parties on Fridays.
The summer program runs Monday - Friday from 9 a.m. - 2 p.m.
Call today to reserve a position as space is limited for these popular sessions.
Five weekly sessions are available.
June 26th - June 30th
July 10-14
July 24-28
August 7-11
August 21-5
The National Center on Physical Activity and Disability states some of the benefits of horseback riding are:
Physical Benefits
    Improved balance and muscle strength.
    Improved coordination, faster reflexes and increased motor planning.
    Stretching of tight or spastic muscles.
    Decreased spasticity.
    Increased range of motion of joints.
    Improved respiration and circulation.
    Stimulates sensory integration.
    Improved visual spatial perception.
    Improved eye-hand coordination.
Socio-Emotional Benefits
    Improved self-confidence.
    Improved risk-taking abilities.
    Development of patience.
    Emotional control and self-discipline
    Expansion of locus of control.
    Development of respect and care for animals.