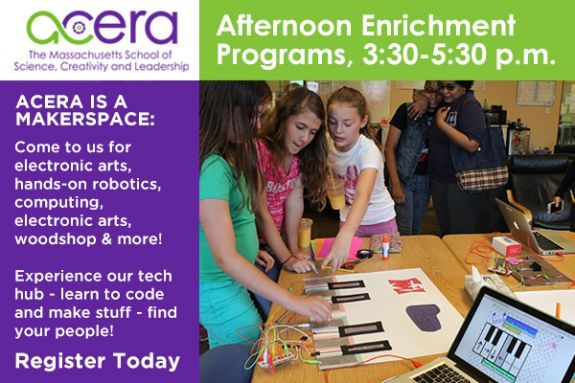 Sign up today and spend afternoons at Acera STEAM Learning Lab.
Every day of the week, Monday through Friday, we run a variety of STEAM afternoon programs. Classes  are open to all ages unless otherwise noted, and meet once a week, from 3:30 p.m. – 5:30 p.m., for 11-12 weeks (unless there is a holiday.) We divide the school year into trimesters, so students enroll in a particular enrichment program for one trimester at a time.
Fall:  September 5 – November 21, 2017
Winter:  November 28, 2017 – March 9, 2018
Spring:  March 12, 2018 – June 8, 2018
Students will enjoy exploring many programs including Science Exploration, Woodshop & Engineering, Hands-On Robotics, Debate Club, Games & Outdoor Adventures and many more to chose from. Acera offers a program for every interest.
Transportation
A bus service will be available for an additional fee to take students to various surrounding towns after our enrichment programs. While we do not know yet the exact route and times for our 2017-18 bus, here is last year's bus schedule as an example:
1. Winchester 5:45 pm, Westland @ High Street
2. Arlington 6:00 pm, McClennen Park
3. West Medford 6:10 pm, Joe Pizza area
4. Belmont 6:20 pm, 280 Payson Road
5. Waltham 6:35 pm, Chapel Hill Chauncey Hall
If you are interested in adding the bus service please email office@aceraschool.org.
Learn More
You can browse all offerings, including detailed session descriptions and faculty information, by each day of the week: