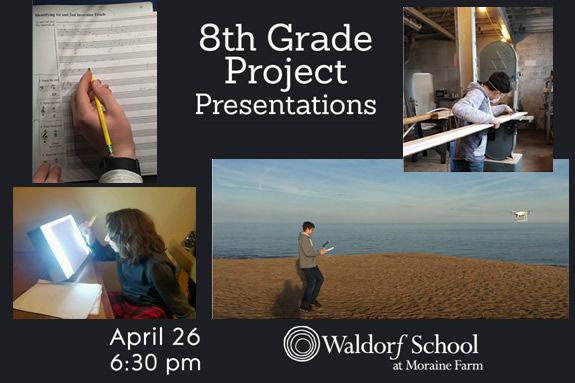 On Thursday, April 26 at 6:30 pm, the Waldorf School at Moraine Farm graduating class, after a year of independent study, presents their projects. The eighth grade projects are one of the unique rites of passage for the graduating class at Waldorf School at Moraine Farm. Students combine the academic, artistic, and intellectual capacities fostered by their Waldorf education to research, develop, and present a project of their choosing.
It stretches the students to plan ahead, acquire a new skill, and sharpen their executive functioning skills. It allows them an opportunity to pursue a passion or curiosity they may not have had an opportunity to pursue otherwise.
The maturity and self-motivation required to accomplish such a project is a prerequisite for moving on to secondary school. The eighth-grade project requires the students to find a mentor, research their topic, complete the work, and share this experience with an audience.
This year's projects include:
Financial investments
Surfboard design and building
Creative writing
Studio arts
Comic strip making
Interior Design
Music composition
Filmmaking
Drone flying
Surfing
The evening is open to the public, runs about 2 hours and is suitable for all ages.
About Waldorf School at Moraine Farm
Waldorf School at Moraine Farm is one of 121 Waldorf schools in the United States and nearly 1,000 Waldorf schools worldwide.
Waldorf School at Moraine Farm is an independent, non-profit school founded in 1986. The school is located on ten acres of the historic Moraine Farm property in Beverly, Massachusetts. The school serves approximately 120 students from nursery through eighth grade. The school has open enrollment year around.
The mission of the Waldorf School at Moraine Farm is to help students discover and develop their individual capacities so they can fully engage in the world and contribute meaningfully to society. We aim to cultivate clarity of thinking, compassion and moral strength, and purposeful action in our students.
To learn more about Waldorf School at Moraine Farm, visit www.waldorfmoraine.org or call 978.927.1936.
When:
Thursday, April 26, 2018, at 6:30 pm
.