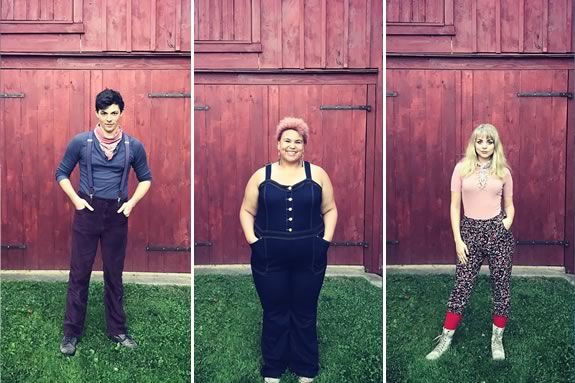 Bandits on the Run is a Brooklyn, New York-based whimsical, criminal trio, notorious for stealing hearts and serenading strangers. They first gained infamy conducting musical sticks-ups in the subways of New York City with their three part-harmony and nostalgic sensibilities. Wielding cello, guitars, melodious three part harmony, not to mention various and sundry toys, they are sure to charm the socks off of folks young, old, and everywhere in between!
Bandits on the Run - Album Release
In their year-and-a-half-long stint of making musical mischief together, they've gone from conducting musical hold ups throughout the metro system to ever larger acts of banditry. They've been responsible for Tiny-Desk-Attention-Getting videos. They've scored films, they've gone on top-40 radio stations, stolen hearts at weddings, played countless New York City music venues, and indoctrinated thousands into a life of banditry that extends far beyond the walls of the subway.
At the center of this dangerous crime ring are Roy Dodger, guitar & vocals (a.k.a. Adrian Enscoe); Bonanza Jellyfish, cello & vocals (a.k.a. Sydney Shepherd) and "Clarissa", percussion, xylophone and vocals (a.k.a. Regina Strayhorn). All three bring their unique voices and songwriting abilities to the table, creating a variety of sounds and styles that create a musical web of sound hard to pin down, and even harder to resist.
To your ears, these whimsical criminals will sound like a nostalgic medley of old and new. Their tools are various and sundry, a motley mix of off-beat pop music covers, reworked jazz and rock standards, and originals that'll make you feel like deja vu all over again. They've amassed a collection of songs, stolen and original alike, that some say would charm the pants off of even the most callous New Yorker.
But don't take our word for it, catch the Bandits in action! You may find yourself swept away, smiling in spite of yourself, slow dancing with a stranger, or even dropping a dollar into the cello case.
When:
Saturday, October 13, 2018 10:30 AM