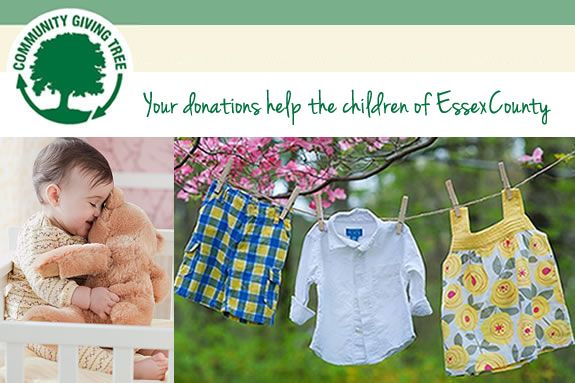 Time to clean out and drop off your gently-used donations to Essex County children in need. On Saturday, from 10 a.m. to 12 p.m., the Community Giving Tree van is accepting donations at Winthrop Elementary School.
Community Giving Tree, a non-profit organization serving all of Essex County, collects gently used baby equipment such as car seats, strollers, high chairs and more and gives them to local children in need. Every baby needs a safe crib.
Community Giving Tree's mission is to help low-income families in northeastern Massachusetts raise healthy children by providing recycled clothing, baby equipment, and other basic necessities.
Urgently Needed!
Toddler Beds
Car Seats (manufacture date under 5yrs)
Pack n Plays - long list of families who have an urgent need.
Cribs
Please clean all items before donating.
Infant-Toddler in-season Clothes
Children's in-season Clothes
Teen in-season Clothes
Children's Shoes (very gently used)
Disposable Diapers (open bags accepted)
Cribs (drop side ok, less than 12 years old)
Pack-n-Plays & Bassinets
Crib Mattresses, Crib Bedding
Toddler Beds
Strollers (not Jogging Strollers)
High Chairs & Infant Seats
Bumbo Seats
Baby Swings
Car Seats (dated within last 5 years)
Baby Bath Linens, Bottles, & Sippy Cups
New and Unused Breast Pumps
Safety Gates (tension type)
Front Baby Carriers
New unopened sample size toiletries
Please call Community Giving Tree at 978-223-5767 with questions.
Community Giving Tree DOES NOT accept items from this list below. Please check the resource page to find agencies that accept these essentials.
Baby Formula
Food
Diaper Pails
Potty Seats
Changing Tables and Pads
Large Stuffed Animals
Maternity clothes
Exersaucers
Jogging Strollers
Extra Bases for Car Seats
Bed Rails
Backpack Baby Carriers
Crib Mobiles
Beach Tents
Soccer Cleats
Baseball Pants
Gymnastic/Dance Wear & Shoes
When:
- Second Saturday of each month we pick up in Hamilton at the Winthrop Elementary School (325 Bay Rd.)
- First Saturday of every month we do a pickup in Andover at the Bancroft Elementary School (15 Bancroft Rd.)
- Third Saturday of each month we pick up in Newburyport at the Kent St. Playground/Cushing Park.
.