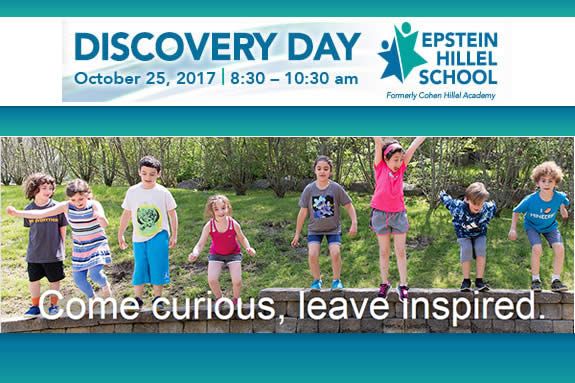 We invite you to discover all that Epstein Hillel has to offer. Epstein Hillel's Discovery Day is an opportunity for parents to visit our school while in action. Current parents, faculty, staff, and students will welcome you any time between 8:30 and 10:30. During your tour, you will catch a glimpse of a day in the life of an Epstein Hillel student.
To learn more, please contact Jennifer Stam Goldberg at jgoldberg@epsteinhillel.org.
Epstein Hillel School, formerly Cohen Hillel Academy, provides the finest in K-8 education grounded in Judaism. Our faculty teach a rigorous interdisciplinary curriculum that fosters critical thinking, curiosity, creativity, and a love of learning. Relationships are at the heart of the school, and the teachers help students meet their full potential in a close-knit and compassionate community. Epstein Hillel graduates are known for their academic achievement, strong Jewish identity, confidence, intellect, and sound moral compass.
Epstein Hillel shares a campus with Temple Sinai and the Jewish Community Center of the North Shore and partners with numerous other agencies and schools across Greater Boston.
When:
Wednesday, October 25, 2017 from 8:30 – 10:30 am