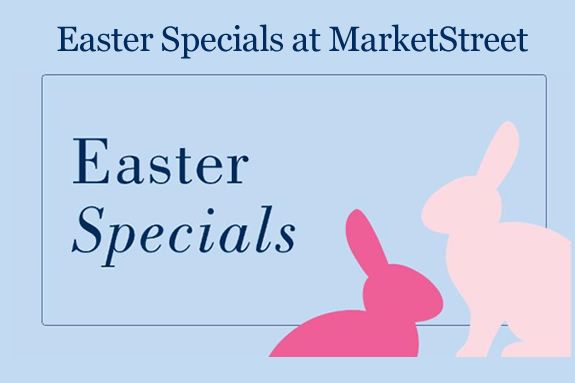 Grab your peeps and find your Easter fun at the MarketStreet spots below!
Please note, some promotions occur in preparation of the Holiday. Please see "Promotion Date" for details on timing and call your favorite store with specific questions. Happy Easter!
Banana Republic
Promotion Date: 4/16-4/22
Enjoy up to 40% off all items in-store. Exclusions apply.
Boloco
Promotion Date: 4/21, Easter Sunday
20% off entire purchase with mention of MarketStreet Easter Promotion
Carhartt
Promotion Date: 4/17-5/4 (Closed Easter Sunday)
25% Off Iconic K87 Workwear Pocket T-Shirts And 25% Off Shorts & Socks
Davio's Northern Italian Steakhouse
Promotion Date: 4/21, Easter Sunday
Dig into a delectable Easter Sunday Brunch from 10 AM-2 PM and enjoy special Easter additions to our Dinner menu all day! Learn more: http://davios.com/lynnfield/events/easter
Fatface
Promotion Date: 4/13-4/14 & 4/20
Gift with Full-price purchase of $100
J.JILL
Promotion Date: 4/11-4/21
30% OFF Entire Purchase
James Joseph Salon
Promotion Date: Month of April
$50 off Keratin Smoothing Treatments and Brazilian Blowout Treatments
Kings Dining & Entertainment
Promotion Date: 4/21, Easter Sunday
Free Pin Painting Available for Kids (First come, first serve 1 per child while supplies last, come early!). Dine then Bowl Reservations & Lane Packages for the Family.
Muse Paintbar
Promotion Date: 4/20, 12:00 PM
Customizable Easter Bunny Painting - add your name and use Muse's Lumify light box technology for easy tracing! Register here: https://www.musepaintbar.com/events/kids-family-82607.
Neem Medical Spa
Promotion Date: Month of April
Jelly Bean Signature Facial $120.00
Pink Parkway
Promotion Date: 4/12-4/14
On April 13th, delight in muffins & mimosas, treats and in-store raffles as you shop for Easter mommy/mini Lilly Pulitzer looks. Enjoy free gifts with purchase of $75+ the weekend of April 12-14.
Polkadog Bakery
Promotion Date: 4/16
Head in-store for a special doggy photo booth and Easter Egg Hunt. Each egg will hold a discount on purchase!
Pure Barre
Promotion Date: 4/20-4/21
Easter Egg Coupon Sale-pick an egg, get a coupon/offer, use it on your retail purchase!
Skeleton Key
Promotion Date: 4/21, Easter Sunday
Come out and play an escape room with the whole family for Easter! $28 tickets all day when purchasing 4+ using code "Easter2019"
Southern Tide
Promotion Date: 4/12-4/14
Satisfy your sweet tooth with a special Easter Egg Hunt in-store, Saturday April 13. Find sweet treats throughout the store and special promotional opportunities upon purchase! Enjoy gifts with purchase of $75+ the weekend of April 12-14.
Vineyard Vines
Promotion Date: 4/13-4/20
Easter Egg Bounce Back Coupons. Customers will pick eggs from a basket which will reveal a coupon from $10-$500. Redemption dates April 22nd-May 5th.
Williams-Sonoma
Promotion Date: 4/19-4/20
Stop in for goodies all weekend long including specialty samples from Kim's Pure Pastry, oatmeal bars from Alicia Bars and select refreshments from the Williams-Sonoma cooktop.
Yankee Candle
Promotion Date: 4/18-4/20
On Thursday-Friday-Saturday (we are closed Easter Sunday), any guest who comes to Yankee with the magic phrase, "Easter Bunny" will receive an additional 10% off their entire purchase!