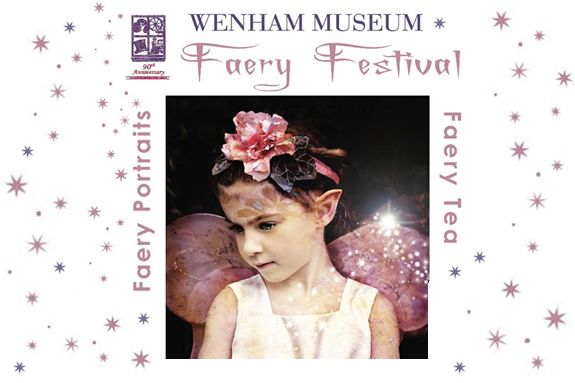 Wenham Museum is proud to announce the Annual Faery Festival at Wenham Museum!
Call all fairies, elves and magical creatures!  Wear your finest fairy frocks, or borrow one of ours and enjoy a day of fairy fun.  Storyteller Jape Payette will be on site telling interactive fairy tales.  Details regarding further program offerings and refreshments to follow.
"The festival is an event that families can take at their own pace; they can spend an hour or the whole day, a very young child might enjoy the stories while an older sibling is excited to create a persona with his/her costume or put lots of effort into making a faery craft. It is an outdoor, active event that is non- competitive, so it may appeal to the family needing a little break from sports", said museum educator Mary McDonald.
Wenham Museum is a family-friendly museum of childhood and New England family life located on Boston's North Shore since 1922. The museum's collections include model trains, a world-renowned doll collection, vintage dollhouses, a costume and textile collection, antique toys, historic photographs and the National Historic Register Claflin-Richards House. Sixteen annual rotating exhibits and related family programming help to interpret the museum's mission to protect, preserve and interpret the artifacts of childhood, domestic life, and the history and culture of Boston's North Shore.
The permanent collection includes over 5,000 dolls and doll accessories, and toy soldiers from the American Revolution through World War II. The Model Train room is a maze of whirring, whistling antique trains and railroad artifacts, and kids are welcome to play conductor. The Family Discovery Room offers a variety of hands-on activities for kids of all ages.
Classes, Events & Camps
Wenham Museum offers many enrichment experiences for children, from preschool up. Click on these links to check out frequent preschool programs, youth and family events, and summer programs.
When:
Saturday, June 11, 2016 10 a.m. - 3 p.m.
Rain Date: Sunday, June 12, 2016