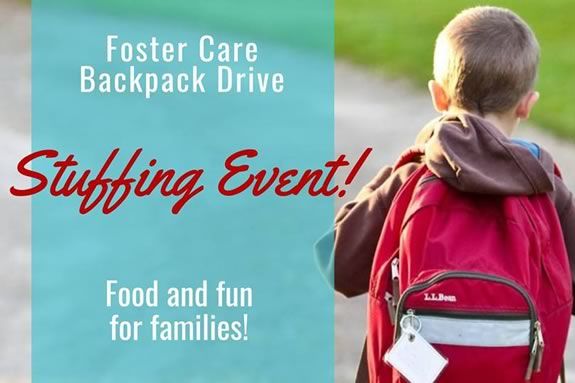 10,000+ kids are in foster care in Mass. Fostering Care seeks to support children in foster care and their foster families by providing basic necessities and personal care items. At this event we will assemble items donated into age-appropriate backpacks for kids in transition. We will also have some food, some fun, and celebrate community! 
If you would like to drop off donations, please go to the following locations where donation boxes are located:
Ipswich Police Department
Ipswich Fire Department
Things to donate:
Backpacks
Clothing

socks & underwear [new]
whole outfits
pajamas

Stuffies
Books
Toys and Puzzles
Blankets
Toiletry kit

Toothbrush and Toothpaste
Soap
Shampoo
Brush or comb
Deoderant (for kids 10 and up)
Feminine Hygiene Products (for girls 10 and up)
Used items are OK, but please donate items that you would feel comfortable having your own children wear or use.  Due to the nature of circumstances that lead to a child enrtering foster care, please do not donate clothing that have monograms or slogans like "Daddy's little slugger" or "Mommy's Little Helper".
Donations can be by item, or stuff a backpack yourself using the list above. If you make your own backpacks please include 2 outfits, 1 pair of pajamas, 2 pairs of socks and underwear, 1 toy or project to keep a child occupied while at DCF, a book, a stuffie, a blanket and a toiletry kit in a plastic bag. See this link for more info
Contact Alexis MacIntyre at Keller Williams for more information.
When:
Sunday, April 28, 2019 4-7pm