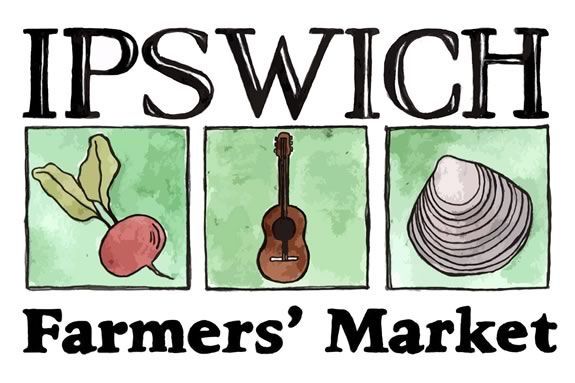 Unfortunately there will be no Ipswich Farmers Market in 2018.
Farm fresh vegetables, fruit, honey, maple syrup, eggs, herbs, flowers, local artisans and featured community initiatives as well as lively entertainment weekly! The Ipswich Farmers Market vision is "To support a vibrant local food-based economy and help nurture a more sustainable community." The market features local food growers and purveyors, crafters and artists, as well as family activities and live music every week. 
Community Building
The Ipswich Farmers' Market provides a fun, engaging venue for the greater Ipswich community to gather, play, listen to music and meet neighbors.
Town-run groups are invited to participate in the market to let the community know what opportunities are available to them.
We Support Our Local Economy
According to survey responses, 63% of market-goers say they shop in other downtown businesses on market days.
According to the Farmers' Market Coalition, for every $100 spent at a Farmers' Market, $99 stays in state.
We Support Sustainability
All agricultural vendors are small-scale farmers who are improving their land by growing responsibly.
The Farmers' Market helps farmers know what their customers are looking for, which promotes sustainable business planning and reduces food waste.
Educational Opportunities
Ipswich Elementary School families each receive a packet of seeds for the kids to grow and the option to bring their seeds to the market for help getting started.
We provide a free space at every market for educational and nonprofit organizations from around the North Shore to connect with the community.  Some of the organizations we have provided space for in years past include:

Food pantries
Birth to Three
Ipswich High School Environmental Club
Animal rescue groups
Ipswich River Watershed Association
We Support Food Access Equality
We accept EBT/SNAP and WIC Farmers' Market Nutrition Program coupons to ensure that our food is accessible to everyone in our community.
We have a 1:1 matching program for SNAP so that food dollars go further.
Cultural Connection
Our music program pays local musicians to play at the market each week.  This provides an uplifting atmosphere for the community and supports the musicians.
Local artisans join the market to connect directly with consumers and showcase their work.