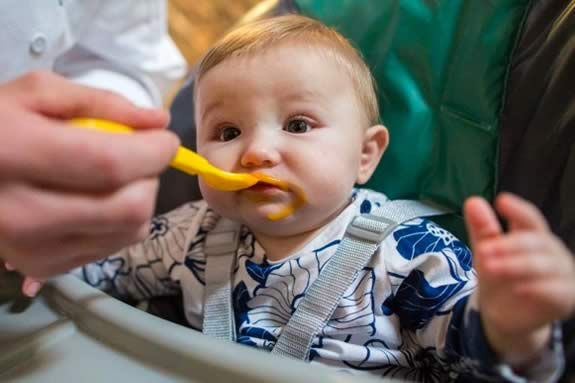 Making your baby's or toddler's food needn't be time consuming or complicated – and it allows you to control the quality of ingredients, taste and freshness. Learn how easy it is to prepare fresh, healthy meals for children – from start to finish.
Bright Horizons at Teradyne in North Reading is proud to host an educational seminar for parents to learn to make food for babies and toddlers. Meet  special guest Seth Fernald, Executive Chef at Lil Foodie.
This engaging workshop will include:
Information and tips on how to make your own organic baby food
Understanding the importance of introducing organic foods to your child
Insights on safe and healthy feedings for your baby
Learn where organic foods are from, how they're grown and their benefits
Learn where to buy organic foods and what foods to purchase
A live demonstration and samples will be available!
About Lil Foodie:
Lil Foodie is Boston's first fresh, organic baby food delivery service. The company, founded by sisters and childcare professionals Janine, Jessica, and Jocelyn Aston is the first of its kind in Boston. Lil Foodie sources fresh, seasonal ingredients from local farms and employs a professional chef to whip up a pure, healthy concoction for infants to enjoy, delivered directly to parents' doorsteps. For more information about Lil Foodie please visit www.lilfoodieofboston.com
About Bright Horizons:
Bright Horizons® is the leading provider of high-quality early education and preschool. Our programs empower children from infancy on to become confident, successful learners and secure, caring people. We strive to grow young readers, scientists, artists, and explorers who are engaged and curious. Our programs invite children to approach school and academics with skills, confidence, and a drive for excellence.
Please RSVP to:
Bright Horizons at Teradyne
400 Riverpark Drive
North Reading, MA 01864
978-664-0987
www.brighthorizons.com/teradyne
When:
Wednesday, April 10, 2013 4:30 p.m.-6:00 p.m.