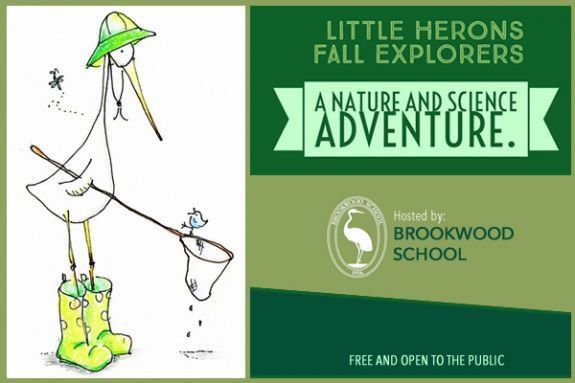 Join us at Brookwood School on Friday mornings in January for an adventure complete with music, crafts and exploration. Musical Story Time, is held Fridays from 9:30-10:30 a.m. on January 12, 19 and 26.  Music Teacher Alex Edwards and Librarian Sheila Geraty will engage children in a variety of books, stories, songs and interactive musical activities.
Little Herons classes for 3- to 5-year-olds are free and family-friendly. Parents and children are welcome to attend one or multiple sessions. Class size is limited.
For more information or to register, contact Kacey Morris at kmorris@brookwood.edu. Learn more about Brookwoods Little Herons progam.
RSVP to Kacey Morris at kmorris@brookwood.edu or 978-526-4500.
Fall Explorers
Led by Science Teacher Sarah Shea and Music Teacher Andrew Luman.
A nature, science adventure featuring music, crafts and outdoor explorations where children will use their senses to discover and enjoy the beauty of natural wonders. Classes are held in our science gym, as well as around the pond, streams, fields and forests on our campus as weather permits.
Tuesdays in October.
Musical Storytime
Led by Music Teacher Alex Edwards and Librarian Sheila Geraty.
A combination of interactive musical activities and stories held in a cozy corner of Brookwood's Shlopak Library.
Fridays in January 12, 19, and 26, 2018 from 9:30-10:30.
Musical World Language
Led by World Language Teacher Joshua Cabral and Music Teacher Alex Edwards.
An age-appropriate introduction to Spanish and French through music, songs and other interactive activities.
Tuesdays in April.
When:
Friday January 12, 19, and 26, 2018 from 9:30 to 10:30