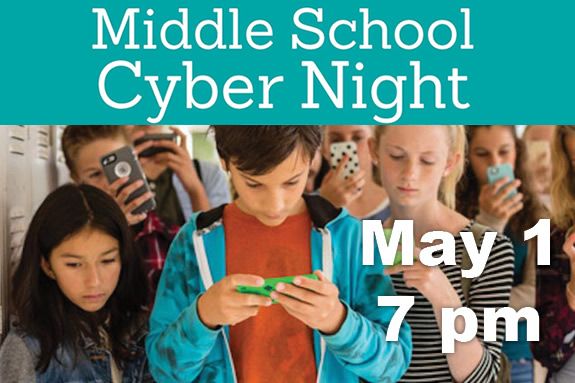 The middle school years are challenging enough for students, parents and educators. Add in the complexities of the internet, discerning what is real and fake information, cyberbullying, digital footprints, and the impact it has on our lives, can make it seem overwhelming. At Waldorf School at Moraine Farm, middle schoolers are taught how to be ethical, knowledgeable and empowered digital citizens who have digital literacy skills that allow them to critically evaluate and contribute to media in a positive way. This progr
During the Middle School Cyber Night on Tuesday, May 1, middle school teachers and educators will highlight the three year (6-8 grade) Cyber Civics program. The audience will engage in mini Cyber Civics lessons in Digital Citizenship, Information Literacy and Constructive Media Participation. Participants will gain new skills and tools to help pre-teens and teens navigate and prepare for their digital future.
This is a free event, open to the public, for ages 9 and up.
To learn more about the Cyber Civics curriculum at Waldorf School at Moraine Farm, please read our blog article Cyber Civics: Digital Literacy for Middle Schoolers.
About Waldorf School at Moraine Farm
Waldorf School at Moraine Farm is one of 121 Waldorf schools in the United States and nearly 1,000 Waldorf schools worldwide.
Waldorf School at Moraine Farm is an independent, non-profit school founded in 1986. The school is located on ten acres of the historic Moraine Farm property in Beverly, Massachusetts. The school serves approximately 120 students from nursery through eighth grade. The school has open enrollment year around.
The mission of the Waldorf School at Moraine Farm is to help students discover and develop their individual capacities so they can fully engage in the world and contribute meaningfully to society. We aim to cultivate clarity of thinking, compassion and moral strength, and purposeful action in our students.
To learn more about Waldorf School at Moraine Farm, visit www.waldorfmoraine.org or call 978.927.1936.
Waldorf School at Moraine Farm is located at 701 Cabot Street, Beverly MA
When:
Tuesday, May 1, 2018 7-9:30pm