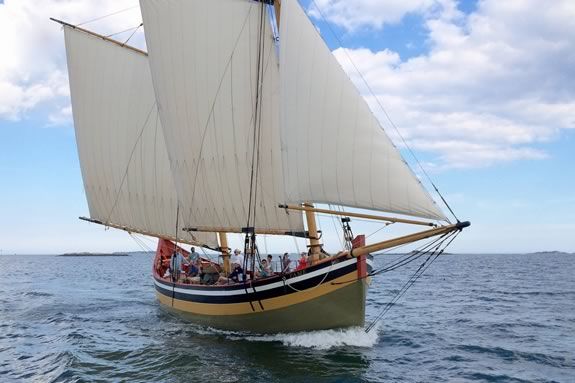 Come for a sail on FAME, a full-scale replica of one of the first American privateers to get to sea during the War of 1812. FAME was also arguably the first privateer to send in a captured vessel. She seized some 21 prizes in the waters off Maine, Nova Scotia and New Brunswick before being lost in the Bay of Fundy in 1814. Launched in June, 2003 from the H. A. Burnham Boatyard in Essex, MA, our new FAME takes the paying public for cruises on Salem Sound, where pirates, privateers, East Indiamen and men of war have been making history for 400 years. FAME sails up to three times daily from Memorial Day through September and then weekends only through Halloween from Pickering Wharf Marina in downtown Salem.
Learn about:
The fishing trade that prompted Cape Ann's first European settlements
The brave little schooners of George Washington's fleet
The East India trade that made Salem rich
The privateers of the Revolution and the War of 1812.
Special Instructions:
Limited Availability!
No reservations.
Booth opens at 10:30AM.
First come, first served - one ticket per person.
Event capacity: 30
Part of Trails & Sails 2017!
When:
Sunday, September 17, 2017 11am-12:45pm
Prices:
FREE as part of Trails and Sails