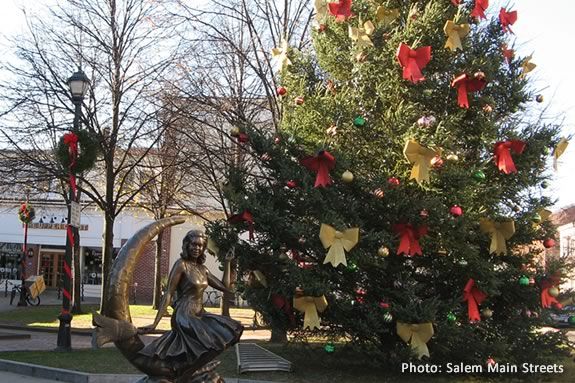 Join Salem Main Streets and the City of Salem as we combine two of our most beloved annual traditions – Greet Santa at the Hawthorne Hotel and the lighting of Salem's Holiday Tree – into one evening. Santa Claus will arrive at the top of the Hawthorne Hotel (18 Washington Square W) promptly at 6:00 p.m. on Friday, Nov. 27, 2015, with assistance from the Salem Fire Department, of course. Bring the whole family out for carols, festivities, and fun!
Santa's arrival will be followed by a procession down the Essex Street Pedestrian Mall to Lappin Park (next to the Bewitched Statue at the intersection of Essex Street and Washington Street), where we will join Santa and Mayor Kimberley Driscoll for the Holiday Tree Lighting.
In addition, Salem Collective of Artists and Musicians (SCAM) is leading a project to make lanterns that will make our procession down the Essex Street Pedestrian Mall more festive. A free workshop will take place at the Salem Arts Center (179 Essex Street) on Sunday, Nov. 22 from 2 pm to 5 pm, so you can make your own lanterns in advance of the Tree Lighting! Workshop attendees are encouraged to bring clean, empty, clear (or translucent) 2-liter or half-gallon plastic bottles that can be "up-cycled" into handmade lanterns. Even if you can't make the workshop, please feel free to bring your own lanterns or lights from home for the tree lighting.
Lights and decorations for the Holiday Tree were made possible by individual contributions and donations from a number of local businesses, including significant donations from Salem's October visitors.
When:
Friday, November 27, 2015 6:30pm