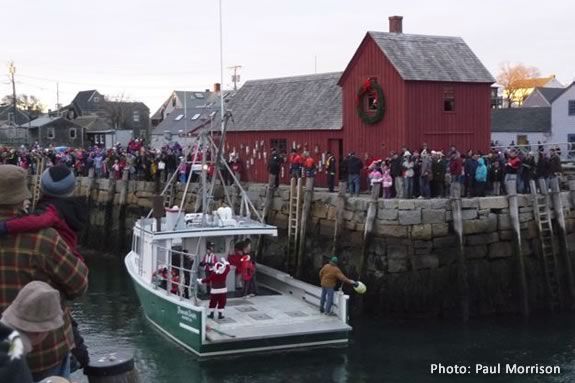 Where else can you see Santa arrive by lobster boat? Santa will arrive at Rockport's Bradley Wharf (the location of Motif No. One) on Bearskin Neck, following a brisk lobster boat ride across Sandy Bay. Then Santa will climb up onto a Rockport Forest Fire truck and proceed along Bearskin Neck to Dock Square, led by Rockport cub scouts and the strolling Cape Ann Jazz Band.
At Dock Square Santa will briefly ascend the platform to greet the crowd and kick off the Tree Lighting festivities, before climbing back onto the fire truck to begin his long return journey to the North Pole.
The Tree Lighting Ceremony will get underway at 4 p.m. welcoming Santa and the public at the Tree with carols and a stirring rendition of "Christmas in Rockport". Well-known Choral Director Wendy Betts will lead the musical program, and Dot Stoffa, Rockport artist and lyricist for "Christmas in Rockport", will serve as emcee.
Singers are invited to join the Dock Square Carolers to welcome in the season. A rehearsal for the carolers will be held at the Rockport Art Association at 2:15 p.m. prior to the ceremony.
Chairperson Erin Battistelli will offer official greetings from the Town on behalf of the Board of Selectmen, and then will pull the switch to light this year's Rockport Christmas tree.
When:
Saturday, December 7, 2013 at 3:45 p.m.