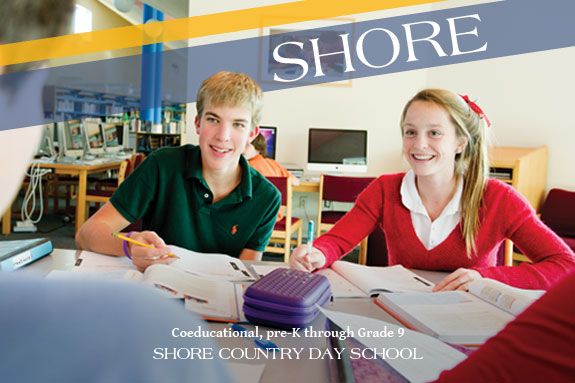 Shore Country Day School in Beverly will hold an Middle School Open House on Wednesday, November 18, 2015. 
Applicants for middle school grades (6-9) and their families are invited to learn why Shore students are accepted at the region's best secondary schools. Meet renowned Head of School Larry Griffin and engage with teachers and students to hear about our exceptional arts and science programs, learn about our new Harkness discussion tables, and sample our hands-on curriculum.
It's the integrity of the community that continues to define Shore. The professionalism of the teachers and the energies of the children are the heart of Shore Country Day School. The character and intellect of the parents, leadership, faculty, and students make Shore who they are.
Attend the Admissions Open House and you'll discover Shore.
For more on this and other events, please visit ShoreSchool.org/admissions
Shore students are immersed in a coherent curriculum that offers academic depth and encourages students to make broad connections among subjects. Shore provides relevant, exciting experiences from readiness through ninth grade, such as tracking the Iditarod, learning about music composition through Garage Band (developed by a Shore alum), or creating a film that documents the class project on gardening, the environment, and the food chain.
Shore searches nationwide for teachers who meet high standards. They expect much more than a graduate degree and search for diverse role models of entrepreneurship, service, and intellectual inquiry—innovators who look at the needs of a global society to ensure the Shore Curriculum retains its best while adapting for the future.
Where else but Shore would you find a third of the students in grades six through nine working with faculty outside of class on independent study projects?
When:
Wednesday, November 18, 2015 6-8 p.m.