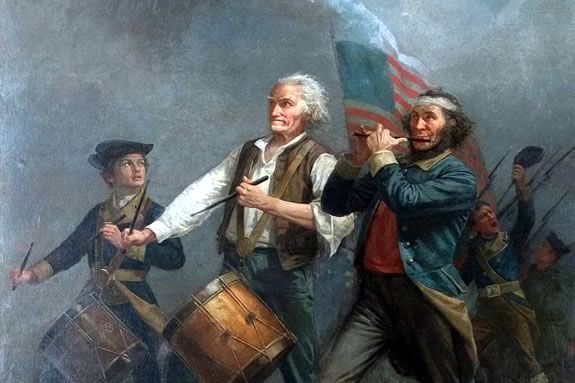 Did you know the famous painting The Spirit of '76 painting resides at Abbot Hall in Marblehead? Take this tour of Abbot Hall as part of Trails & Sails 2018 and explore Marblehead's history in the early American Revolution. WPA Murals showing highlights of the town's history from the 1600s to modern times are a priceless social and artistic heritage from the 1930s national W.P.A. (Works Progress / Projects Administration) program for artists and workers' relief. A wide array of the town's collections are always on display when Abbot Hall is open. Images & info on the newly redesigned website MarbleheadHistory.org
You'll see portraits of a Revolutionary War general (orchestrated crossing of Delaware River in December 1776 while still a colonel), a U.S. Supreme Court justice (served 33 years, 1811-45, still the youngest ever appointed), a signer of the Declaration of Independence (& U.S. VP during War of 1812), a U.S. Congressman at that time, and the handsome commander of Fort Sewall. The fort was named after a Marbleheader who was a Massachusetts Supreme Court Justice, appointed Chief Justice 1814.
Learn about conditions in the field and on the home-front, how and why Marblehead's experience was different from Salem's after the war. Beautiful coastal views, rare early architecture are the backdrop for the fascinating, inspiring and moving stories of local heroism.
When:
Fridays & Saturdays, September 21-29, 2018 10am-5pm
Sundays, September 23-30, 2018, 12-5pm
Prices:
FREE as part of Trails and Sails