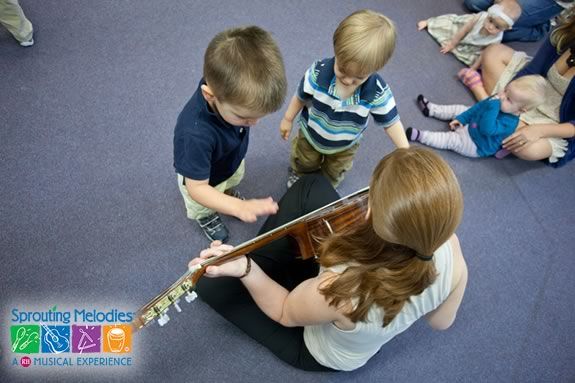 Sprouting Melodies Music Program at Newbury Town Library offers a distinctly different, development-based approach to infant and toddler music classes. Age-specific classes for infants, toddlers, siblings and preschoolers include songs, instrument play and movement that encourage musical, social, physical, and emotional growth.
Step Inside Sprouting Melodies
This class provides an engaging environment aimed at enhancing important skills such as communication, self-organization, and interaction. All of the songs used in the Sprouting Melodies classes are created or adapted by Board Certified Music Therapists to address areas of development in young children. By using our songbook and singing the songs at home, you can provide the repetition that your child needs to learn, as well as engaging in a really fun activity with your child. These songs are great for car rides, dinnertime preparation, waiting in the doctor's office or any other time of transition.
Registration required
for kids ages 0-5
Open to the Public
When:
Thursday November 2, 2017 10:15-11am