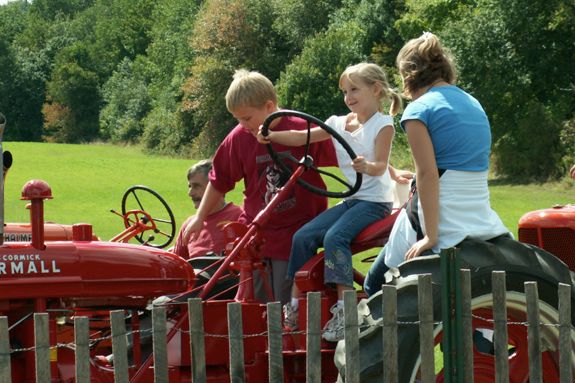 Enjoy a New England-style cultural and educational event for all ages. The 6th Annual Tattersall Farm Day, is poised to be the biggest yet with over a thousand people visiting the farm. Visitors will enjoy crafts and demonstrations from local vendors and experts, a petting zoo, hay rides, tethered hot air balloon rides, live music, barbeque, homemade ice cream and other refreshments. Balloon rides and a couple of other events require an additional fee.
This farm day is certain to be an enjoyable family oriented event! A good opportunity for great family photographs. Be sure to bring your camera and video camera.
You'll find some of our favorite vendors there.
ANGORA HUTCH - Angora rabbits and yarn-making exhibit
APOTHECARING - Organic, locally-blended herbal teas, tea accessories and herbs
BARN BITS, A DIVISION OF CUSTOM BARNS.NET - Furniture and décor made from repurposed barn wood
BERT'S WOODTURNING - Handmade wood birdhouses and quilts
BETH PARKES FIBERARTS - Handwoven household items, handmade lace
BRADFORD GRANGE #238 - Fraternal organization with ties to agricultura and community service
BUTTONWOODS MUSEUM/HAVERHILL HISTORICAL SOCIETY - Haverhill Historical Society
CARING HANDS CENTER FOR MASSAGE & WELLBEING - Chair massage by local massage therapists
CAROL LEBEAUX STUDIO - Traditional silhouette cutwork
CARTER'S ICE CREAM - Fresh, locally-made ice cream
CAT'S EYE GLASS CREATIONS - Unique stained glass panels and suncatchers, commission work and classes
CATSCRATCHBOX.COM AND LAND AND SEA GLASS - Handmade cat scratch boxes, glass suncatchers and children's books
CEDAR'S MEDITERRANEAN FOODS - Free samples of locally-made hummus
CHRIS'S FARM STAND, HAVERHILL - Farming exhibit from local farmer/farm stand
CREATIVE HAVERHILL - Art for sale by local artists
DEBORAH'S KITCHEN - Homemade jams and jellies
DESIGNS BY CONNIE @ FEZZIWIX - Handcrafted totes, bags and purses
DUDLEY'S FLOWER FARM, HAVERHILL - Plants and produce from a local grower
EDIBLE BOSTON - Magazines on local food
EMMETT'S EDIBLES - All natural gourmet dog treats made with human grade ingredients
EVERYONE LOVES PINK'S - A variety of handmade items including coasters, baby scrapbooks and upcycled crafts
FAY'S FARM & ORCHARD, HAVERHILL - Apples, cider, and handmade quilts
FLETCHER COMMUNITY FARM - Community farm & CSA 25 growing 25 different types of vegetables and herbs
HANNAH MADE - Felted animals and Christmas decorations
HAVERHILL BREWERY - A variety of micro-brewed beers
HAVERHILL TRAILS COMMITTEE - Volunteer group responsible for cutting and maintaining Haverhill's Trails
HEARTUFLLY HOMESPUN - Primitive and folk art dolls and décor
KIMBALL FARM, HAVERHILL - Pumpkins, meats, and hay rides
L'ARCHE IRENICON/HOMES OF HOPE - Program information, notecards designed by disabled adults
LAVECKEY - Handmade gemstone and bead jewelry
LEELEE STREET - Crayon shapes for kids of all ages
LONG HILL ORCHARD, WEST NEWBURY - Locally-grown apples and homemade cider donuts
LOVELEE BY BEV - Vintage crafted jewelry
MA'S ITALIAN BISCOTTI - Specialty biscotti from a local baker
MERRIMACK VALLEY ESSENTIALS - Handmade soaps and soy candles
MILLVALE FOLK ART - Unique pottery gardens and beautiful oil paintings by a local artist
MILLVALE FORGE - Blacksmith demonstration and hand-forged items for sale
MSPCA AT NEVINS FARM - Animal care and adoption center and advocates for animal welfare
MUSTARD SEED YARN LAB - Hand dyed yarns made locally
NECN - NECN's weatherman, ask questions and get an autograph
NEVER ENOUGH MUSTARD AND MORE - Homemade mustard, made locally
OCASIO'S TRUE MARTIAL ARTS - Martial arts demonstrations
ROBERT WILHELM/AUTHOR - Local author: National Nightstick
S&C EXCHANGE - Handcrafted items from Peru
SALTMARSH SECRETS - Hand-crafted and upcycled kids clothes
SEW APPEALING - Beautifully sewn clothes for American Girl dolls
SEW PHABULOUS PET TOYS - Hand sewn pet toys for cats and dogs
STORYTELLER CREATIONS - Handmade necklaces with hidden stories, etched glass jewelry
SUNNY SPOT STUDIOS - Custom prints and artwork for kids' rooms
SWAMPWALKERS - Live turtle exhibit and education
SWAN QUILTING - Beautiful handmade quilts and quilting demonstration
SWEET THINGS BAKERY CAFÉ - Delectable baked goods from downtown Haverhill's sweetest shop
TEAM HAVERHILL - Volunteer action group responsible for Haverhill's new downtown mural, Haverhill Farmer's Market, and more
THE CHALK SHOP - Chalk shapes for kids of all sizes
THE ELITE RIDER - Pony rides (for an additional fee)
THE NH GODDESS CHRONICLES - Local author: NH Goddess Chronicles
TOMTEN BEEWORKS - Pure honey beeswax creations: candles, ornaments, soaps, lotions, and more
TURKEY HILL FARM, HAVERHILL - Farming exhibit from local farmer
WILLOW SPRING VINEYARD - Local vineyard
WILLOW VALE WOODTURNING - Beautiful woodcraft bowls, napkin rings, stoppers, and more
JIM RURAK - Fly-fishing demonstration and education
NANCY DUFFIE - Baskets woven by a local artisan
ROBERT LEMERISE - Handcrafted wood pens, bowls, and other gifts
DICK LABBE - Antique farm equipment 
When:
Sunday, September 16, 2012