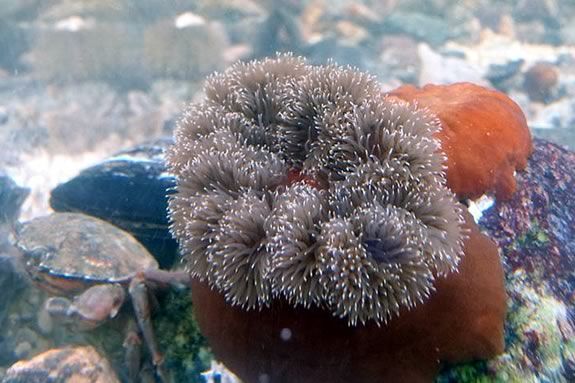 NEW PROGRAM! Come to Joppa Flats after school, and join Lisa Hutchings and her animal husbandry team for a fascinating look at feeding time for the marine life in our 110-gallon touch tank. With the help of Joppa's digital hand-held microscope, you'll see sand dollars channeling food into their mouths and green sea urchins wiggling tube feet and spines. You'll help us identify, sort, and feed a wide variety of crabs and mollusks. Watch our horseshoe crab devour sea worms and hermit crabs "beg" for supper. As a special treat, we'll show you our newest inhabitants, 8-inch-wide sea stars and a young lobster!
We are offering this program every Wednesday afternoon, September 13 through October 11, 2017 from 4:00–5:30pm.
Specifics:
Registration required.
Suitable for children ages 7-11 yrs
Drop off program
Themes are subject to change.
Please dress for the weather since some activities may take place outdoors.
When:
Wednesdays, September 13 - October 11, 2017 4-5:30pm
Prices:
Adults: Free
Member Children: $11
Non-Member Children: $14