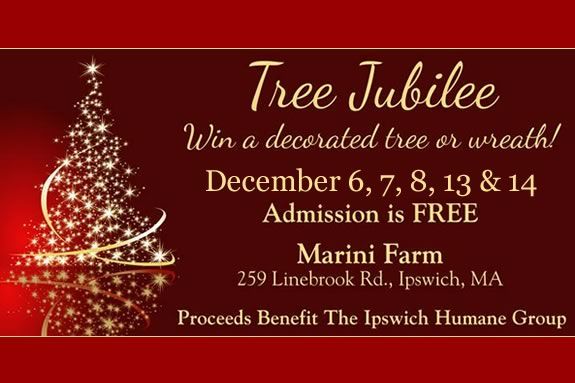 Come to Marini Farm for the Tree Jubilee fundraiser to benefit The Ipswich Humane Group.  Tour the gallery of beautifully decorated trees and wreaths donated by local organizations, families, and businesses then choose the ones you want a chance to win! More than 50 spectacularly decorated trees and wreaths will be raffled off (decorations and all!) at the end of the Jubilee. You never know what our participants will decorate their trees with!
Admission to the event is free, and you can buy chances to win in the raffle while you're at the farm. All proceeds from voucher sales will go to the Ipswich Humane Group.
Meet Santa & face painting on December 7, 2013 noon-2pm.
When:
Fridays, December 6 & 13, 2013 6-9pm
Saturdays, December 7 & 14, 2013 10am - 8pm
Sunday, December 8, 2013 10am-7pm
Prices:
Admission is FREE
Raffle: $5/10 Chances, $10/20 Chances