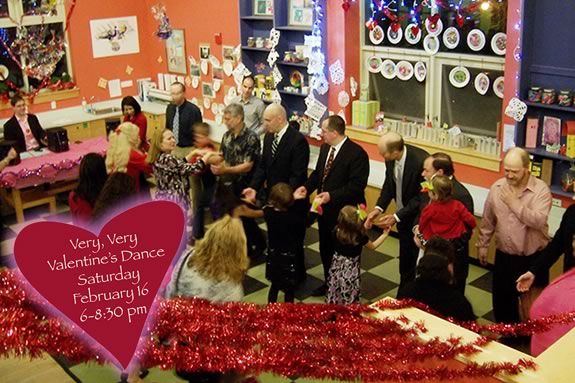 Families are invited to share the love in February by attending the second annual Very, Very Valentine's Dance at the Children's Museum of New Hampshire. Kids and adults will enjoy an evening together at the museum celebrating Valentine's Day with dancing, treats and fun crafts and activities!
"We love to find ways to bring families together, so planning this mid-winter event has been a lot of fun," said Jane Bard, Education Director for the Museum. "Our dance is a great opportunity for everyone to get dressed up and have a festive night out at a very reasonable cost. We know that grown-ups will enjoy the evening as much as the kids. We look forward to welcoming parents, grandparents, aunts, uncles and other special adults in children's lives – everyone is invited."
Adults can dance with their little sweethearts beneath a glittering disco ball, and everyone can learn to "dance like a star" with help from Portsmouth Ballroom Dance Studio instructors who will present a demonstration and short lesson at 7 pm.
Each family group can pose for a complimentary 4" x 6" keepsake photo using fun Valentine-themed props like feather boas and heart-shaped sunglasses.
Young guests can get creative by making fragrant tissue paper corsages and boutonnieres for their adult dates, creating thumbprint animal Valentines, and decorating their sugar cookies with frosting and sprinkles. 
Fresh fruit from Fiddlehead Farms Marketplace and bubbly fruit punch will also be served. 
The night will conclude with Hershey Kisses for all and a Valentine party favor for each young guest.
To reserve tickets for the Very, Very Valentine's Dance, please call the museum.
When:
Saturday, February 16, 2013 6 - 8:30 pm
Prices:
Members: $10
Non-Members: $15