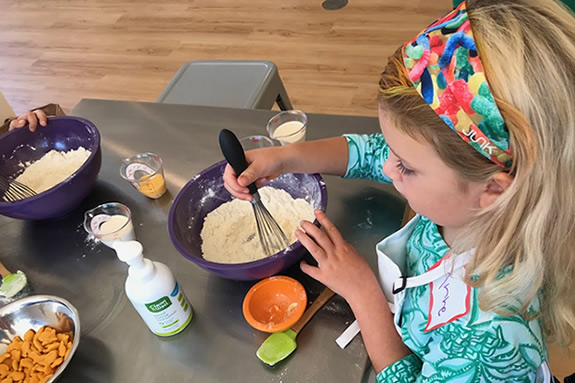 Taste Buds Kitchen, a new cooking class studio located at 131 Rantoul Street in Beverly, has opened. Taste Buds Kitchen and its owner, Laurel Holmes, provides fresh and unique cooking classes, parties, school vacation camps, and special events to the community - both children and adults. Guests of all ages have the opportunity to learn about cooking, develop and master cooking skills, and to connect, explore and grow together in the kitchen.
Taste Buds Kitchen has "Mommy and Me" classes, after school drop-off classes, and family classes designed for kids and parents to work together, including everyones favorite Gingerbread House Signature Workshop, Snowman Cupcake Workshop, and Snow Princess Cupcake Workshop. Teen's can develop valuable cooking skills that everyone needs while creating something they otherwise wouldn't normally know how to make. Adult BYOB classes and parties are held several nights a week. Private lessons are available too.
Last week Anne and I attended and enjoyed a Cupcake Decorating Workshop. We learned about measurements, ingredients and even a little cooking science. We developed new cooking skills and tips and tricks that we have used back at home every day since our visit. Cooking and learning new skills is a great way for people to come together and we agreed that it would be one of our favorite go-to places this season.
See what's going on at TBK this season. Taste Buds Kitchen is just across the street from the Beverly Depot and a couple of blocks from the Beverly Post Office.  With its super easy location and parking, it has already become a favorite destination for us.