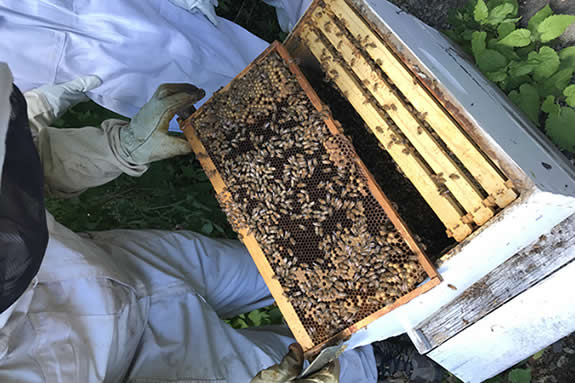 This year, Glen Urquhart School made the conscious decision to make its campus pesticide and herbicide free. With nature trails winding through its 23-acre campus, Glen Urquhart has always focused on the natural world. According to Head of School David Liebmann,
"GUS is committed to addressing many of today's most challenging environmental issues, including that of pesticide and herbicide use, and reducing the school's overall carbon footprint. We want to be good stewards of the environment, and also put into daily practice what we're teaching students at GUS."
The school is working with the company PJC Organic, which like GUS strives "to be a good steward of the resources we have been entrusted with." PJC provides "all natural organic fertilizer products and programs for turf, forage, and crops that are safe, effective, and sustainable." A PJC representative explains, "Sustainable practices in the school setting need to expand beyond green buildings and recycling programs, to address campus lawns and athletic playing fields."
"There is abundant scientific evidence that going pesticide and herbicide free is a wise choice, says Liebmann. "The GUS campus sits on a watershed, which is important to protect for many reasons. It's why the school's driveway and parking lots are not paved. Furthermore, as a
campus for young children who roll in the grass, this is a particularly important effort, not to mention for local wildlife and pollinators like bees."
As part of Glen Urquhart School's curriculum, students study the science of apiculture. They are charged with the care, health, and honey collection of the school's beehives. In the spring, with the help of former GUS parent Luke Fabbri, seventh graders don full white suits and arm
themselves with smoke to open the beehives. They check on the colony, give the bees a quick sugar drink, and send them out to pollinate the world. "This is when it's important to have flora on the grounds, including dandelions, free from herbicides so the bees can pollinate safely," comments Liebmann. In the fall, when they return to campus, the then eighth graders learn about collecting and processing the honey. They are responsible for gathering the honey, putting it in jars, labeling it, and selling it to the GUS community. The money collected pays for the bee project, new bee equipment, fresh queens, and classroom resource materials. The school has kept bees for eleven years, long before colony collapse disorder began making the news.
GUS alumnus Orren Fox '10 is a proponent of beekeeping and is also a sustainable food advocate. He is the author of Do Bee Keeping: The Secret to Happy Honeybees. He urges people to "avoid using pesticides in their gardens, as they can directly harm bees. In the summer months, bees are highly resourceful and find food from nearby flowers. Planting beefriendly flowers is a way of helping local hives flourish and providing ongoing sources of nectar and pollen." Fox has been keeping bees and chickens for most of his life. He has written several articles for The Huffington Post, Yankee Magazine, and the Boston Globe. He is the founder of @happyhoneybees on twitter, with the goal of gathering beekeepers from around the world to share information and, ultimately, help bees.