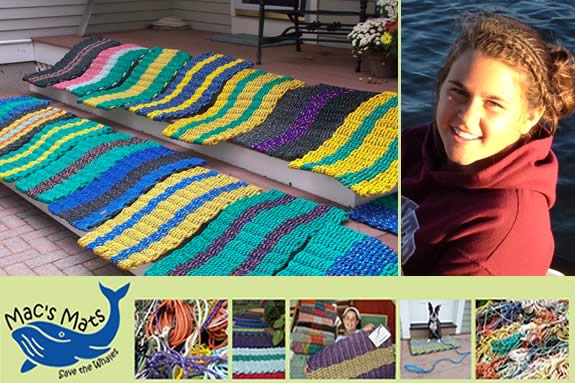 McKenzie Plante is a fourteen year old who runs a thriving business distributing rope door mats, woven baskets and dog leashes. She sells these products to help save the Northern Right whales and surrounding species from getting entangled in fishermen's rope.
The doormats, baskets and leashes are woven from old rope no longer used by fisherman because of new rules requiring that lines sink, not float, in order to protect the Northern Right Whale. The mats are good for the environment as each one is 100% recycled material and each one really is a one-of-a-kind work of art.
For more information on Mac and her mats, check out  www.macsmats.com.
Saving Whales One Mat At a Time
How to order:
Call Mac directly at Mac's Mats - 978-758-8825 
Mats are $34.95 or this weekend only two(2) for $60.00 and the Dog leashes are $14.95. Shipping is not included.
Or call and ask us where our mats are sold near you.
"I LOVE so many things about my mat, I don't know where to begin! It was a great transaction and very quick considering I am located in California. The mat is beautiful and it wears so well. I love the idea that it is made our of recycled material and will help save whales! Thank you so much!
- Helen Hornbuckle