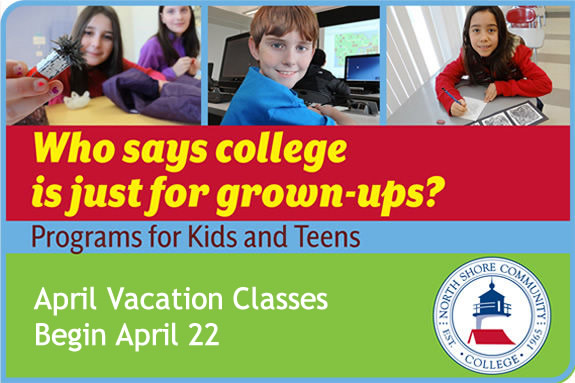 North Shore Community College is offering a variety of creative, fun classes for kids this April Vacation beginning April 22 and registration is now open. The NSCC's Kids to College programs, offers fun courses for curious kids!
"Did you know there are many benefits to involving your child in educational, extracurricular activities? Here are just a few . . . getting involved in diverse interests gives students a broader view of life, raises self esteem; creates new friendships with kids from other communities; looks great on college applications and when applying for high school scholarships, and community awards! Plus it's fun! I can't wait to welcome you to our classes!"

Nancy Tracy, Director of Youth Programs
Register early for the best selection and availability.
A few of the classes offered are:
Video Gaming for Kids
Find YOUR inner Chef
Sparkle and Shine
LEGO® Robotics … Challenger
Minecraft and You
April Vacation Special Value Package:

Love to design video games, explore science and engineering using Minecraft, and build and operate Lego's Robotic prototypes? If the answer is yes, then sign up for all three of our classes. Located at our state of the art Beverly Campus in the Cummings Center, the three classes will run from 10 AM to 4 PM. Students bring a bag lunch and drink each day. On Friday, the students will be treated to a pizza party with beverages! $50 savings on tuition!
Visit the North Shore Community College - Kids to College website to register or call 978-236-1232 or 978-236-1200