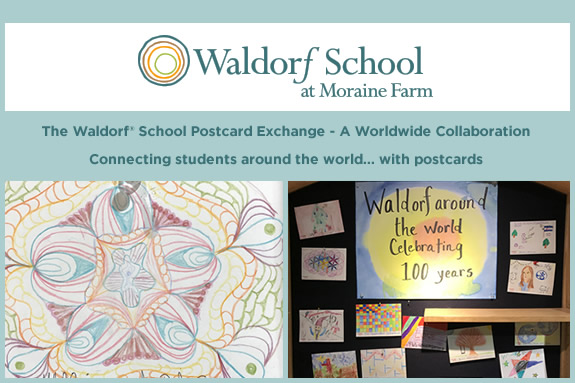 The Waldorf School at Moraine Farm is participating in a worldwide postcard exchange initiative to both broaden the global perspective of students and kick-off the 100 year celebration of Waldorf® Education planned for 2019.
Throughout the current year, students in 1,100 Waldorf schools from greater than 80 countries will send a postcard to every other Waldorf school in the world. Each postcard is being individually designed by a student, telling or showing something of his or her country, school or self.
This innovative global project will connect hundreds of thousands of students to one another through individualized and artistically designed postcards, which will then be displayed by each school.
Our school is proud to be a part of this million-fold Waldorf greeting from around the globe!
wAbout Waldorf School at Moraine Farm
Waldorf School at Moraine Farm is one of 121 Waldorf schools in the United States and nearly 1,000 Waldorf schools worldwide.
Waldorf School at Moraine Farm is an independent, non-profit school founded in 1986. The school is located on ten acres of the historic Moraine Farm property in Beverly, Massachusetts. The school serves approximately 120 students from nursery through eighth grade. The school has open enrollment year around.
The mission of the Waldorf School at Moraine Farm is to help students discover and develop their individual capacities so they can fully engage in the world and contribute meaningfully to society. We aim to cultivate clarity of thinking, compassion and moral strength, and purposeful action in our students.
To learn more about Waldorf School at Moraine Farm, visit www.waldorfmoraine.org or call 978.927.1936.
Images: Provided by Waldorf School at Moraine Farm. Postcards received from Waldorf schools around the world.