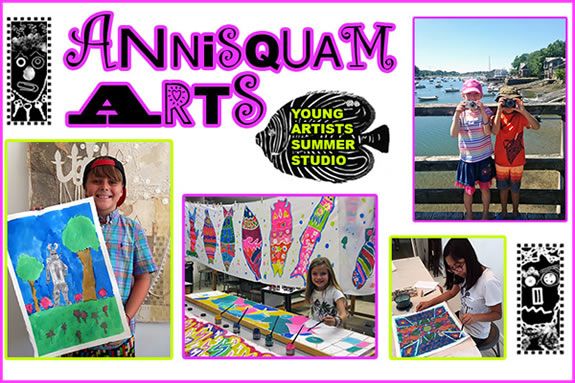 Welcome to Annisquam Arts! We're gearing up for our 25th season of art-making in the heart of Cape Ann. From sewing to nature art, we're offering seven inspiring workshops this summer––sign up for one week or all seven! Young artists ages 6–14 are welcome.
About:
Developed by artist and educator Dawn Southworth, Annisquam Arts has been a summer haven for creativity and fun for over 20 years! All workshops are taught in Dawn's professional home studio on Goose Cove, with access to Gloucester's many cultural offerings and Cape Ann's most scenic spots. Excursions, beach days, and group activities give students plenty of time to socialize and be outdoors. Projects are designed to encourage imagination and to support individual creative expression––students have a blast learning a range of artistic techniques with the highest quality materials. Small class sizes and individual instruction serve and nurture all levels of ability. At the end of each week, students go home with an impressive portfolio and a memory bank full of fun experiences to share with their families.
Ages: 6–14
Tuition: $250/week
Location: 63 Bennett Street South, Gloucester, MA
Sample Day*:
9:00 AM Drop off at Annisquam Arts, students gather together to learn about the day's artist/thematic and associated project
9:00 AM Set up in small groups and work on their projects
10:30 AM Snack-time & take a break
10:45 AM Continue working on project, or transition to another project or activity
12:00 PM Lunch-time in or outdoors with supervised play
12:30 PM Wrap up the day's work and hang their work to dry or archive in their developing portfolio
1:00 PM Pick up
*Tuesday or Wednesday is beach day! This is weather dependent. We leave the studio at 11:00 AM and eat lunch at Lighthouse Beach. We are back at the studio by 12:45 PM. Thursday is ice-cream day! We have sweet treats at the studio after lunch.
Instructors:
All classes are taught by professional artist and educator Dawn Southworth in her professional home studio on Goose Cove, with assistance of 2-3 additional helpers each week.
Dawn Southworth is a well-known Boston artist recognized for her mixed media works and installations. Dawn teaches art at Glen Urquhart School, in Beverly, MA, and is a former visiting faculty member at the School of the Museum of Fine Arts, Boston, MA. Dawn previously owned Clark Gallery in Lincoln, MA. Her work is represented in many public and private collections, including the DeCordova Sculpture Park and Museum, the Addison Gallery of American Art, the US Embassy in Morocco, the Boston Public Library, and Fidelity Management and Research. www.dawnsouthworth.com.
Register:
Due to limited class sizes, early registration is encouraged! Sign up below online at www.annisquamarts.com or contact Dawn to request a mail-in brochure at dawn_southworth@hotmail.com | 978-290-2107. A nonrefundable deposit of $75 due upon registration.
2019 Workshops:
Each week is designed as a separate enriching program. Young artists may sign up for one week or all seven! Classes run Monday–Thursday, 9:00 AM–1:00 PM.
Week 1:  June 24- July 27
Shore-LINES
With sketchbooks in hand, we'll make daily excursions to some of the area's most iconic spots. Hop aboard a boat shuttle through the Gloucester harbor; explore the galleries and studios of the Rocky Neck Art Colony; and follow the same scenic paths as legendary Cape Ann artists Winslow Homer, Fitz Henry Lane, and Edward Hopper. Walking shoes, swimsuit, and a towel are encouraged this week––as well as an appetite  for ice cream☺
---
Week 2:  July 1- July 5  (no class July 4, Thursday)
Mirror Mirror
This week, we'll make our selfies by hand! Using ink, charcoal, collage, and pastels, we'll explore a range of portraiture techniques. From Picasso to Frida Kahlo, we'll find inspiration from the traditions of cubism, surrealism, pop art, and graffiti. Your reflection will never look the same!
---
Week 3:  July 8- July 11
Journey to Japan
Take inspiration this week from the time honored traditions of Japanese art. We'll explore textile design, bookmaking, and ink painting; try our hand at manga comics; and create our own big waves inspired by Hokusai's iconic painting. Students will bring a piece of Japan home in hand-dyed Shibori silk, hand-bound journals, and Sumi-e ink paintings.  
---
Week 4:  July 15- July 18
Sew Much Fun
Delve into the art of textiles, where form meets function through a variety of colors, textures, and prints. Crafting decorative pillows, embroidering designs, and learning a variety of basic stitches, you'll bring your own expressive flare to time-honored traditions. Gain handy skills, like how to sew a button, while creating pieces you can wear and decorations for your home!
---
Week 5:  July 22 –July 25
Nature's Art Box
Artists have always turned to their surroundings for inspiration. We'll do the same this week, making works from found and natural materials. Forage and sculpt in the spirit of Andy Goldsworthy, capture the shapes and colors of the landscape before you like Georgia O'Keeffe. We'll make whimsical fairy houses, funky block prints, and intricate observational sketches of shells and sea creatures!
---
Week 6:  July 29 –August 1
Recycled Reseen
Someone's trash is another's treasure! Artists like Man Ray, Marcel Duchamp, and Julian Schnabel are known for making masterpieces from the recycling bin. This week you'll learn how to make something from nothing and everything from anything, turning broken plates into mosaic collages, forming driftwood into sculptures, and using cereal boxes to make handmade books.
---
Week 7:  August 5- August 8
Oodles of Doodles
A line is a dot that went for a walk. This week, we'll be running in all directions with ink, charcoal, and pastels to bring our own imaginative doodles to life. From ancient cave painting to modern day graffiti, we'll explore how drawing techniques have evolved over time. Practice observational drawing on Cape Ann's docks in the tradition of Stuart Davis  and compose a dynamic comic-book painting in the style of Roy Lichtenstein. You'll find there are endless possibilities for making your mark!