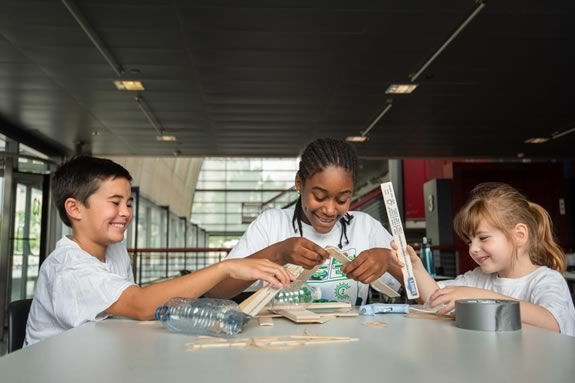 Camp Invention® is a nationally acclaimed summer program where STEM concepts come to life. Led by local teachers, this program has tapped into kids' natural curiosity since 1990, giving them the opportunity to become innovators through teamwork and immersive, hands-on creative problem-solving.  Camp Invention programs can be found all over the North Shore in Beverly, Wenham, Danvers, Swampscott, Middleton, Gerogetown, Andover, North Andover, Newburyport and beyond!
Camp Invention - Supercharged
Camp Invention is a program of the National Inventors Hall of Fame® (NIHF), a nonprofit organization dedicated to honoring, challenging and inspiring innovation. Founded in 1973 in partnership with the United States Patent and Trademark Office, NIHF's education programs provide a unique experience for children to learn about the importance of Intellectual Property while they explore, create and design. Through the use of hands-on activities, Camp Invention promotes science, technology, engineering and mathematics (STEM) learning — as well as builds 21st-century skills — in a fun and engaging environment. The program features new curriculum each year, which is inspired by some of our nation's most brilliant minds — the National Inventors Hall of Fame Inductees.
"If you go to Camp Invention, it is so great to watch the kids, but it's even better to sit down at their tables," said Steve Sasson, inventor of the digital camera and 2011 NIHF Inductee. "The kids take pieces from old devices and put them together to create a new object that solves a problem, and they collectively work on this around a small table. If you sit and actually listen to them and how they describe their invention, it's powerful, because they feed off each other — and that's how inventions really are created."
Camp Invention is the only nationally recognized summer program focused on creativity, innovation, real-world problem solving and the spirit of invention. Through hands-on programming, Camp Invention encourages children entering kindergarten through sixth grade to explore science, technology, engineering and mathematics curriculum inspired by some of the world's greatest inventors. Camp Invention is a program of the National Inventors Hall of Fame.