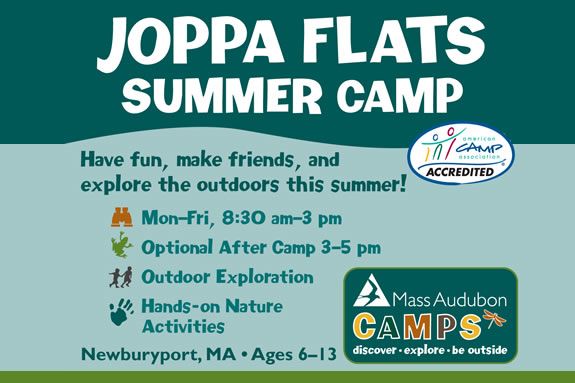 Explore nature and get outdoors at Joppa Flats Education Center Summer Camp. Joppa Flats Summer Camp is the perfect program for children with an interest in and curiosity about nature. Campers ages 6 to 13 have fun and make friends as they discover local habitats and wildlife. The days are filled with hands-on, place-based activities, such as wildlife tracking, orienteering, and nature art; games and cooperative challenges; and nature engineering projects. Multiple field trips each week provide full ecosystem immersion for an enhanced camp experience, while small group sizes ensure that campers stay safe and engaged. 
Kids are divided into three age groups - Explorers for kids aged 6-8, Trekkers for kids aged 9-11, and Nature Questers aged 11-13. Explorers Sessions meet Mondays through Fridays 8:30am-3pm, and Nature Questers have a varied schedule. See the brochure. 
Each session follows a curriculum focused on a weekly theme.
So if you have a budding young scientist or your child is interested in exploring the creatures they find out in the back yard, sign them up for a program!  They'll learn a lot, make new friends and discover new things about themselves!
Use the links below to find out more about what Joppa Flats has to offer and download the brochure to read more details.  The brochure has the program registration form attached.
Tuition:
Reference the brochure for tuition.