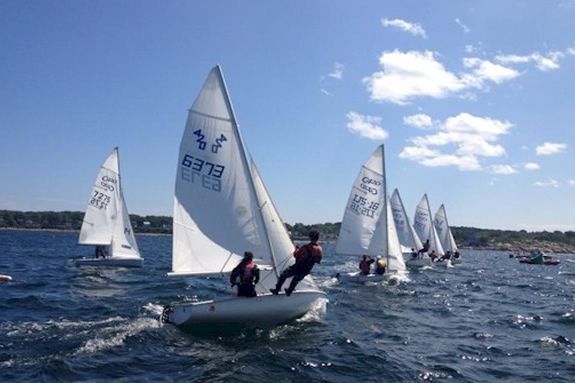 Have you ever wanted to learn how to sail? Sandy Bay Sailing Program offers sailing lessons to sailors of all ages and abilities; from beginners to racers and cruisers, ages 8 and up. Kids will sail in a beautiful bay out of T Wharf in historic Rockport, Mass.  SBYC offers quick access to ocean sailing at its best.
The Mission of the Sandy Bay Sailing Program is to give our students a broad exposure to the sport of sailing. The primary goal is to develop, safe, independent sailors, by offering them an active and exciting experience that builds camaraderie, sportsmanship, and self-reliance.
Online registration for sailing lessons at SBYC are open!  Go to www.sandybay.org/juniors and find the link titled "Registration". There you'll find how the registration process will work, and what information you'll need to have at hand. 
We look forward to seeing you at Sandy Bay Yacht Club this summer!
Sessions for non racing classes:
Session 1: June 25 - July 6
Session 2: July 9 - July 20 (no classes July 4)
Session 3: July 23 - August 3
Session 4: August 6 - August 17
Sessions for racing classes:
Session 1 - June 25 - July 20 (no classes July 4)
Session 2 - July 23 - August 17
Our Junior Program uses 18 Optimist dinghies and 9 420's. These dinghies are the choice of yacht clubs and sailing programs nationwide. They offer the student a sturdy platform on which to learn, while providing enough challenge to keep competent racers involved in the sport. Juniors are grouped by ability and there is a place for everyone including 8 year old beginners, older 13 or 14 year old beginners, right on up to the seasoned racer. Our racing programs offer experienced sailors the opportunity to travel locally and regionally, competing against other sailors their own age.
In addition to wonderful sailing opportunities, Sandy Bay Yacht Club offers excellent social opportunities. All students become members of the Club (although parents are not required to become members, we encourage them to join). We encourage you to take advantage of junior cookouts, Sunday Morning Coffees, Chowder Day, and numerous other dinners and events. Sailing is a social sport, and there's no better place to get started than Sandy Bay Yacht Club.
The SBYC Sailing Program is a 501(c)(3) non-profit charitable organization and admits students of any race, color, religion, or national origin. Scholarships are also available.