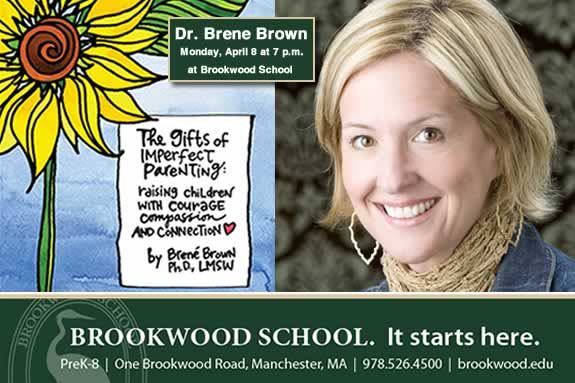 On Monday, April 8, at 7 p.m. Brookwood School proudly welcomes best-selling author and University of Houston professor Dr. Brene Brown as the second speaker in the school's annual 4 to 14 Speaker Series: Parenting Elementary School Kids.
Brown is a highly sought-after speaker who has been called "a thought-leader, researcher, and storyteller with the rare ability to both inspire audiences and leave them with actionable change strategies." At Brookwood she will share her thoughts on The Gifts of Imperfect Parenting.
This is an event that every parent should attend to learn how successful parents and educators are helping their children find success in school and in life.
The Monday, April 8th lecture, which begins at 7 p.m. is open to the public, and tickets are $10. Click to purchase: Dr. Brene Brown Tickets.
A researcher at the University of Houston Graduate College of Social Work, Brown has spent her career studying human connection and the challenging topics of vulnerability, shame, authenticity and courage. She is the author of four books including the just released NY Times No. 1 best-seller Daring Greatly: How the Courage to Be Vulnerable Transforms the Way We Live, Love, Parent, and Lead (2012), The Gifts of Imperfection (2010), and I Thought It Was Just Me (2007).
Brown garnered the nation's attention with her 2010 TEDxHouston talk entitled The Power of Vulnerability, which immediately went viral and to date has over 6 million views. That piece was followed with a second and equally compelling TEDTalk entitled, Listening to Shame in March of 2012. (Both videos can be found on YouTube.)
Through her research Brown has come to the belief that although vulnerability is indeed at the core of difficult emotions, it is also the birthplace of authenticity, courage, joy, love, belonging, accountability, innovation, inspiration, creativity, and spirituality. When we avoid or shut down vulnerability, we lose access to the experiences that give purpose and meaning to our lives. If we want to change the way we live, love, parent, lead organizations, and build communities, we have to start with a conversation about vulnerability.
This led her to explore a concept that she calls Wholeheartedness. She asks: "How do we learn to embrace our vulnerabilities and imperfections so that we can engage in our lives from a place of authenticity and worthiness? How do we cultivate the courage, compassion, and connection that we need to recognize that we are enough – that we are worthy of love, belonging, and joy?"
By working in partnership with our teachers, we hope that parents will explore the many ways in which we can encourage children to take responsibility for their own success in school and in life.  Attending parent/teacher education events like the 4 to 14 Speaker Series program on October 9 is another way for us to share a common understanding of the latest child development research.
Located on the Beverly-Manchester line just minutes from Route 128, Brookwood is a co-ed day school for students in grades Pre-K through 8. The address is One Brookwood Road, Manchester, MA.
When:
Monday, April 8, 2013 at 7 p.m.
Prices:
General Admission tickets are $10