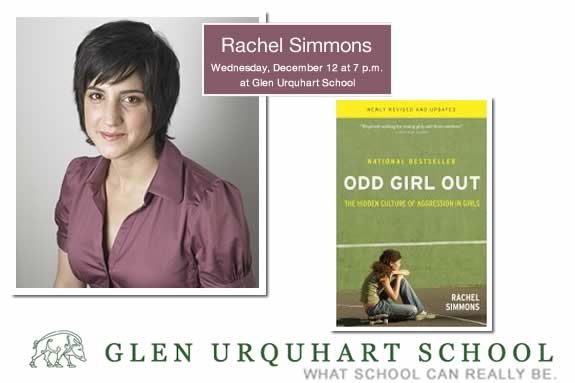 Rachel Simmons, author, educator and leading expert in female aggression will speak at Glen Urquhart School on December 12 at 7:00 p.m. Simmons is the author of New York Times bestsellers Odd Girl Out: The Hidden Culture of Aggression in Girls and The Curse of the Good Girl: Raising Authentic Girls with Courage and Confidence. She is a graduate of Vassar College and the winner of a Rhodes scholarship to Oxford University, where she began studying female aggression. She has worked with NY Mayor Rudolph Giuliani and New York Senator Charles E. Schumer.
Simmons was the host of the PBS television special, "A Girl's Life," and writes an advice blog for girls at TeenVogue.com. She has appeared on Oprah, the Today Show, and appears regularly in the national media. Simmons is the founding Director of the Girl's Leadership Institute and serves as a consultant to schools and organizations all over the world.
Simmons will be meeting with students in grades 3–7 and educators during the school day and families in the evening, including an open invitation to the public.
"Healthy relationships are as important in today's world as any academic skill and Rachel Simmons is providing girls with the tools they need to be assertive and resilient participants in authentic, trusting relationships. We look forward to Rachel's conversations with students, teachers and parents", said David Provost Head of School at Glen Urquhart.
Simmons shares the factors that have contributed to today's girls placing more importance on being liked than on being an individual. She is a pioneer in the exploration of schoolgirl cruelty and contents and Simmons contends that many incidents of bullying could be avoided if girls were taught and encouraged to assert their negative feelings. She believes this would empower girls to better negotiate conflict and define relationships in new and healthier ways. "I believe our task now"; Simmons writes in her book "is to give every girl, parent and teacher a shared public language to address girl's conflicts and relationships."
Though she focuses on the plight of today's girls, including important topics such as bullying, cliques, popularity and jealousy, Simmons' insights often cross gender boundaries, allowing men to learn about the nature of female relationships. Simmons feels that it is important and timely work for girls and the women they will become.
Glen Urquhart School, an independent, K-8, day school in Beverly, MA, cultivates original thinkers with a global perspective in the pursuit of academic excellence, intellectual growth, and good character. Through their partnerships with various world organizations and experts in education, such as MIT Lab, Harvard Project Zero, Montserratt College of Art, The Food Project, and NPH Orphanages throughout Central America, Glen Urquhart delivers world-class academics and a world-wise curriculum in an atmosphere of individualized support and care. Donations will be accepted with all proceeds benefiting GAIN@GUS, a program that provides free academic and recreational summer enrichment to talented students in the city of Beverly and surrounding areas. http://gus.org
When:
Wednesday, December 12, 2012 7 p.m.