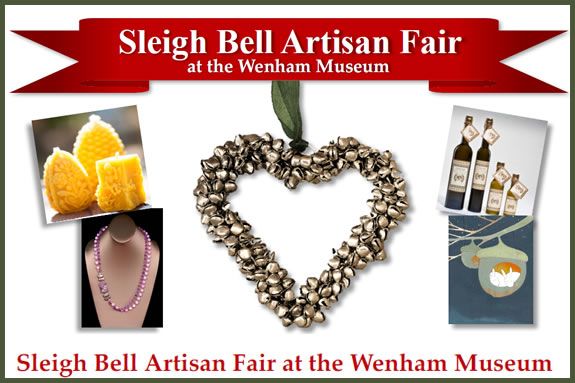 Each year, the nonprofit Wenham Museum carefully selects a variety of hand-crafted artisan goods for its festive Sleigh Bell Artisan Fair. Artisans and their wares are hand-picked for quality and craftsmanship, earning this Fair a stellar reputation within the community.
There is something for everyone on your list--children, adults, and pets!--conveniently displayed all in one location, with a comfortable shopping atmosphere and a centralized and speedy check-out process (with cash, check, and all major credit cards accepted).
Attendance grows each year as more and more North Shore communities discover this annual tradition. Shop early for the best selection! This year's Fair features NEW artisans and returning shopper favorites that will not disappoint.
Admission to the Fair on Friday, November 18 and Saturday November 19, 10 a.m. - 4 p.m. is FREE!
PLUS: Silhouette Artist Fri. & Sat., Nov. 18-19 at the Sleigh Bell Fair 10 a.m.-4 p.m.
Silhouette Artist on-site creating hand-cut keepsake portraits. Reserve online at www.wenhammuseum.org/portraits
Artisans Donate 20% of Sales to the nonprofit Wenham Museum.
Bring an unwrapped toy to donate to the 21st Annual Holiday Toy Drive sponsored by Senator Bruce Tarr and Northshore 104.9.
Partial proceeds from this event support the museum's educational exhibit and events. Wenham Museum is a 501 (c) 3 non-profit organization.
When:
Friday, November 18, 2016 10 a.m.-4 p.m.
Saturday, November 19, 2016 10 a.m.-4 p.m.