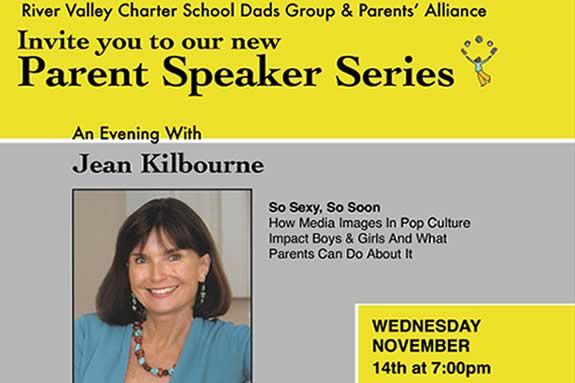 River Valley Charter School is proud to invite you to attend an evening with Jean Kilbourne, Ed.D., an internationally recognized expert in the impact of the media on children and teens. Ms. Kilbourne will discuss her book, So Sexy So Soon: The New Sexualized Childhood and What Parents Can Do to Protect Their Kids. The discussion about how media images in pop culture impact boys and girls and what parents can do about it. Ms. Kilbourne will offer parents essential, age-appropriate strategies to counter the impact.
Filled with savvy suggestions, helpful sample dialogue, and poignant stories from families dealing with these issues, So Sexy So Soon provides parents with the information, skills, and confidence they need to discuss sensitive topics openly and effectively–so their kids can just be kids.
The event is free and open to the public.
RSVP Recommended: www.rvcsjeankilbourne.eventbrite.com
Jean Kilbourne, Ed.D. is internationally recognized for her pioneering work on the image of women in advertising and for launching a movement to promote media literacy as a way to prevent a range of public health problems. She is the author of the award-winning book, Can't Buy My Love: How Advertising Changes the Way We Think and Feel and director of the prize-winning films, Killing Us Softly, Spin the Bottle, and Slim Hopes. Dr. Kilbourne has served as an advisor to the Surgeon General and has testified for the U.S. Congress.  She holds an honorary position as Senior Scholar at the Wellesley Centers for Women. She has been featured in Time, The New York Times, The Wall Street Journal and on Today, Oprah, 20/20, and hundreds of other media outlets.
When:
Wednesday, November 14, 2012 at 7:00 p.m.