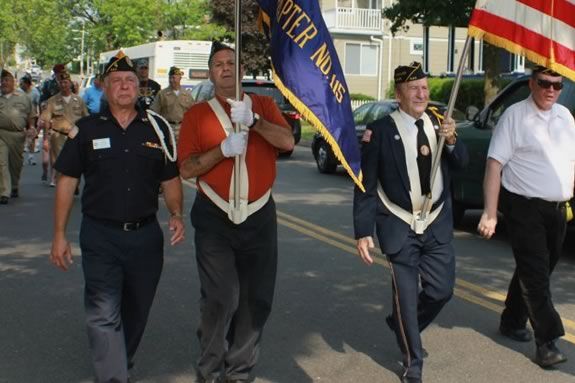 The Saugus Veterans Council Memorial Day Parade will start on Jackson Street at 9:00 am to Cliftondale Square along Lincoln Avenue to Central Street then onto Winter Street to the Veterans' lot at Riverside Cemetery for graveside services including an invocation and a '21 Gun Salute'. The parade will re-form and march to Saugus Town Hall for the memorial ceremony with Grand Marshall, Norm Hansen and Keynote Speaker, LCDR Stephen Harris.
All veterans are welcome to participate and join in the parade.
Saugus Residents are urged to cheer the marchers along the parade route.
The services will include the singing of the national anthem, Keynote speaker - Lt. Commander Steve Harris, and the flagging of the graves.
Following the services, those who marched in the parade will proceed to the Marine Cpl. Scott J. Procopio American Legion Post 210 on 44 Taylor Street, Saugus, for a collation.
In addition to the parade there are other events scheduled throughout the day including:
Reenactors of WWI, Vietnam and Korea
Field equipment displays
A 5k/10k Gold Star Run for Honor
"Women's Memorial Tree"  Dedication at Veteran's Park celebrating women veterans
When:
Saturday May 25, 2013 9AM