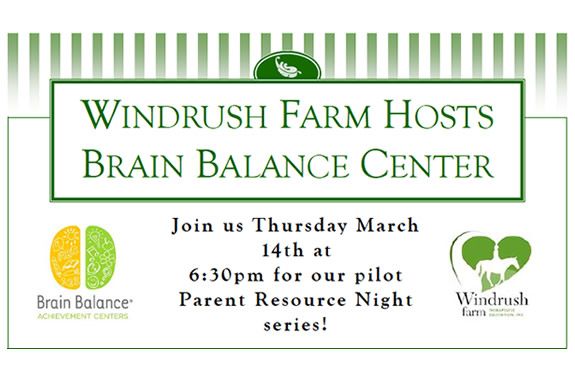 Windrush Farm proudly presents a workshop for parents. Presented by Dr. Steven Bromberg, founder of Brain Balance, this informative workshop for parents will focus on drug-free solutions for children ages 4-17 that are struggling with social, attention, academic, behavioral, emotional or sensory issues. Learn where the problem is in the brain and how your child can be helped without the use of medication.
Dr. Bromberg will suggest activities to do at home that will help your child today.
Dr. Bromberg: Specialty in Functional Neurology; Doctor of Chiropractic, Degree from New York Chiropractic College; Executive Director of Brain Balance Achievement Center, Danvers, MA; Bromberg Chiropractic in Cambridge, MA for 27 years in neurological disorders and musculoskeletal injuries; Bachelor of Science from Pennsylvania State University.
Light refreshments will be provided.
Please RSVP to Jenna@WindrushFarm.org or call 978-682-7855.
When:
Thursday, March 14th at 6:30 p.m.