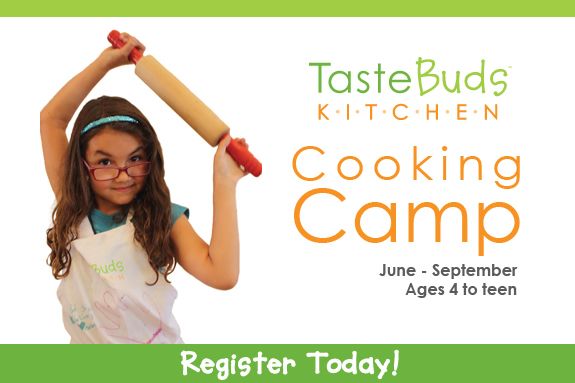 When school is closed, Taste Buds Kitchen is open! A new and unique menu is offered each week. Register for a few weeks or even a single day.
Every day kids make two to three recipes – always one savory and one sweet – while whipping up batches of fun. Younger chefs focus on the basics along with kitchen games while the older camps tackle advanced techniques and culinary challenges. Professional Culinary Instructors and Kid Experts lead the way for a camp your budding chef won't soon forget! A TBK apron is included for each full-week camper as well as flexible drop-off from 8:30-9:00am for a small fee.
Children ages 10+ can apply to be a Counselor-In-Training for a full day experience, learn more. In accordance with Massachusetts law (G.L.c. 111, 127A) and mandated regulations (105 CMR 430.000 et. seq.: Minimum Sanitation and Safety Standards for Recreational Camps for Children), the programs offered at Taste Buds Kitchen do not meet the definition of a camp and thus are not subject to licensing by the Local Board of Health.
Daily Schedule
    8:30-9:00: Early Drop-Off (call to register)
    9:00-12:00: Morning Camp (4-8y)
    1:00-4:00: Afternoon Camp (9-13y)
    4:00-4:30: Late Pick-Up (call to register)
    2:30-5:30: Urban Foodies Camp (11-16y)
Extended Day
Children ages 10+ can apply to be a Counselor-In-Training for a full day experience from 9:00-4:00 ($550/week).
Counselor-In-Training
CITs assist our morning camp in addition to participating in the afternoon camp with their peers. We are only able to offer a limited number of CIT positions each week so apply early if you want to participate in this opportunity!
Register Now