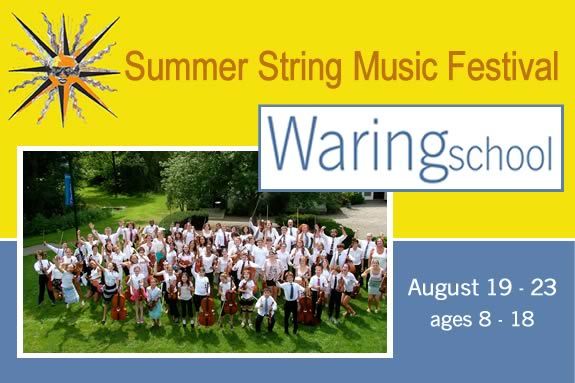 A one-week intensive musical experience for string players that combines practice and performance in a string orchestra as well as the joys of summer time fun.
The instructors at Waring School know that summer is an ideal time for young musicians (ages 8 to 18) to spend a rewarding week playing together in a string orchestra. Located on our beautiful 32-acre campus in Beverly, the Waring School is offering a fun-filled and educationally rich musical experience to the talented string players of the North Shore.
This one-week day camp will bring together the talents of many of the North Shore's best music teachers to present an orchestral program ideally suited to the age and level of each child. This week will culminate in a final performance for family and community.
Dates: Monday-Friday - August 19-23, 2013, 9 a.m. - 3 p.m.
For more info, call Steve Smith 978.927.8793 x230
Deadline for registration is June 20 (including a non-refundable deposit of $125).