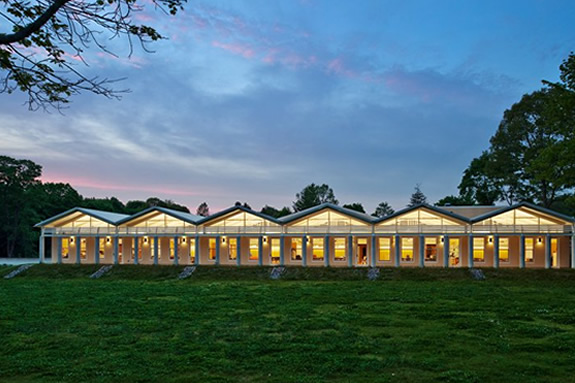 Tomorrow's world is going to demand very different kinds of things of our children. Fortunately, Glen Urquhart is a very different kind of school. At Glen Urquhart, learning isn't confined to a book, a classroom, or even our 23-acre campus. For GUS kids, learning starts from within. When children leave GUS, they go as original thinkers with the academic readiness to meet the demands of the most rigorous high schools and colleges, and the global perspective to succeed in the new world.
When we look into the faces of our students, from the tiniest kindergartner to the most familiar 8th grader, we see individuals who  have a unique path before them, and we see the opportunity, responsibility, and privilege of helping those children dream, achieve, and succeed.
At Glen Urquhart, world-class academics and a world-wise curriculum help young minds that are open to everything develop into
exceptional global citizens who are ready for anything.
Glen Urquhart School, originally the North Shore Middle School, was founded in 1977 by Lynne Warren. The impetus for the founding of the school was a desire to provide an educational program that goes beyond traditional schooling and aims at integration of intellectual, creative, and aesthetic learning. Glen Urquhart School is a co-educational, independent day school for grades K through 8 with a tradition of excellence since 1977.Small student/teacher ratio
Two teachers in each lower school classroom
Innovative math curriculum
Integrated, thematic curriculum
State of the art technology
Award winning community service program
Glen Urquhart School encourages children to:
Explore their intellects and develop their imaginations,
Pose questions as often as they devise solutions,
Speak individually yet work collaboratively,
Discover the best within themselves,
Respect all people and value their differences,
Act responsibly in our community and in the world
Learn more about all that Glen Urquhart School has to offer.
For information or a personal tour, please call Kristie Gonzalez, Director of Admission,
978-927-1064, ext. 115 • kgonzalez@gus.org
Location
Glen Urquhart School
Beverly,
MA
01915
Coordinates: 42° 34' 9.03" N, 70° 48' 58.0248" W