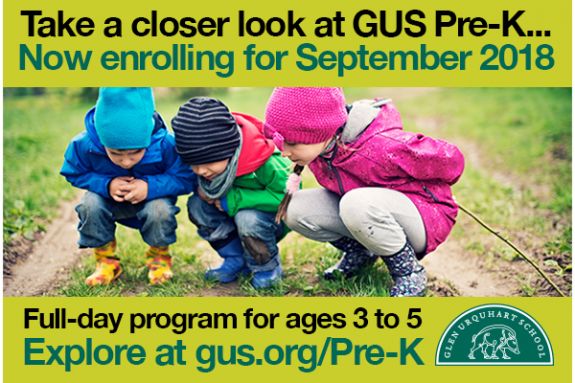 At the core of Glen Urquhart School Pre-K program is the student and the excitement of discovery.
GUS Pre-K is a full-day, Monday through Friday program for children ages 3 to 5 years old. These youngest learners come to school with boundless curiosity and an open heart and mind, ready to engage fully with their world as they pose questions, build knowledge, solve problems creatively, and develop relationships with friends and teachers.
Built on the belief that all children have the desire, ability, and motivation to learn about their world, the Pre-K program will nurture children's natural curiosity by providing an inspiring, supportive, and stimulating learning environment. Students will set out in September to discover themselves as learners, rooted from their earliest days in hands-on, curriculum-driven exploration that makes learning real, tangible, and engaging.
Glen Urquhart School is an independent, co-educational day school for students in kindergarten through grade eight. With a commitment to knowledge, creativity, and character, teachers at GUS focus on an interdisciplinary curriculum that incorporates place-based learning, thematic study, community service, and integration of the arts. The 23-acre GUS campus is designed to promote environmental awareness and appreciation and features nature trails that wind through woodland, vernal ponds, outdoor classrooms, past a 7,000 square foot greenhouse, and historical architecture. Located in Beverly Farms, GUS is celebrating its 40th year on the North Shore. www.gus.org
Location
Glen Urquhart School Pre-K
Beverly Farms,
MA
01915
Coordinates: 42° 34' 10.6068" N, 70° 48' 57.672" W