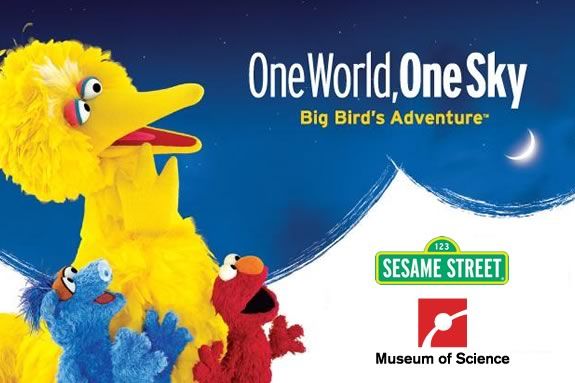 The Museum of Science hosts a special planetarium presentation geared to engage kids ages 6 and under in the world of Astronomy! Elmo and Big Bird team up to introduce young children to the start in Big Bird's Adventure: One World, One Sky at the Hayden Planetarium in Boston! Follow along with Big Bird, Elmo, and their friend from China, Hu Hu Zhu, as they take you on a journey of discovery to learn about the Big Dipper, the North Star, the Sun, and the Moon.
Planetarium Show in the Charles Hayden Planetarium
Recommended for grades 1 and younger
Approximately 40 minutes
*Please note: "Lap children" under age 3 do not require separate tickets. However, if your child under age 3 would prefer his or her own seat, please call us at 617-723-2500 to purchase a Child (age 3-11) ticket for this show. Tickets for children under age 3 are not available online.
Big Bird's Adventure: One World, One Sky
When:
Saturdays through April 6, 2013 10:30am or 1:30pm
Sundays through April 7, 2013 10:30am or 12:30pm