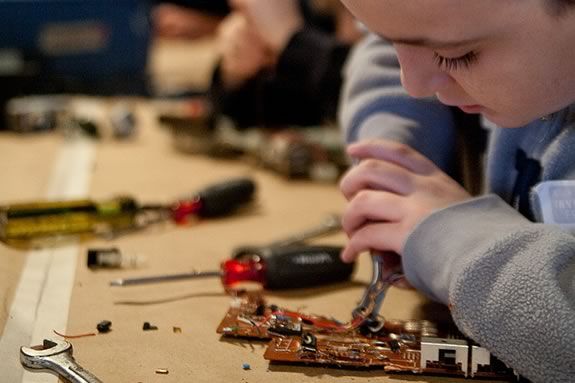 Boston's third annual Inventgenuity Festival is presented by Beam Camp, a New Hampshire summer camp for the applied arts, technology and collaboration. The weekend Festival will be loaded with a tremendous range of activities led by Beam's staff of artists, engineers and big thinkers. The Inventgenuity Festival has become a popular annual winter celebration of making things for kids ages 7-14 and their parents.
At the Inventgenuity Festival, kids will playfully and productively investigate what digital technology and manual mechanisms have in common. In two days of hands-on workshops and on-going collective projects led by expert makers and manipulators of sound, image, electricity, and motion kids will explore this year's theme, DIGITAL BY HAND.
Says Beam Camp's Co-Founder Danny Kahn: "We love watching kids jump behind and beyond the screen to discover how the magic is made and meeting the artists and engineers that make it through nothing less than hard work, persistence and imagination. We feel it's our job, our mission really, to physicalize and make play out of concepts that are generally veiled in mystery and expertise."
In the weekend's big Project designed by Allen Riley, "Physical Video Processing Unit," kids will become the bits and bytes of a room-sized video machine using physical materials to edit and transform video.
Participation in the project is free. Attendees may also sign-up for one of the rotating slate of 45-minute workshops. Scheduled workshops will explore DIGITAL BY HAND through Handpowered Animated GIFs (Brett Van Aalsburg), Crazy Cursor Bots (Reid Bingham), Origami LED Pixels (Susan Ngo), LED Fortune Tellers (Eun Jung (EJ) Park), and Embroidered Emoticons (Julie Schneider).
Festival admission is free, but advance sign-up is required - register through the website. All workshops will repeat throughout the day.
Workshop registration will take place at the Festival. There is a $5 materials charge for some workshops.
When:
Saturday, March 2, 2013 11am-5pm
Sunday, March 3, 2013 11am-5pm
Prices:
FREE Admission
Small Fee for Some Workshops