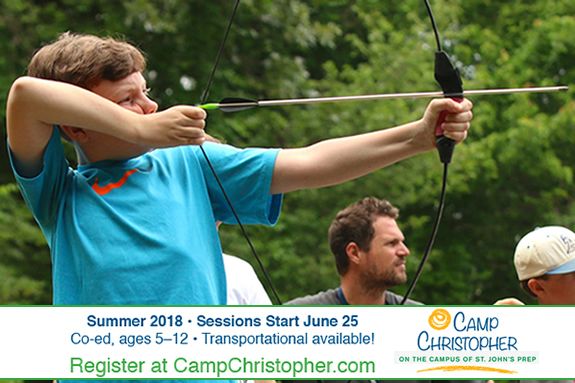 Summer is just around the corner. Make it a fun-filled summer at Camp Christopher. Both prospective and returning Camp families are welcome to attend the Camp Christopher Open House to meet staff, tour the property, and learn what Camp Christopher is all about! Every day at camp means swimming, games, sports, arts & crafts and more. Campers make friends, try new adventures and master skills. Camp Christopher creates a welcoming camp experience that fosters self-confidence and growth in youngsters of all ages.
A typical day at Camp Christopher includes a wide range of fun activities. Enroll Today!
Outdoor Activities: Gaga Dodgeball・Archery・Badminton・Baseball・Basketball・Bean Bag Toss・Bocce・Camper's Choice・Touch Football・Street Hockey・Four Square・Disc Golf・Kayaking (11 & 12 yr. olds only)・Kickball・Lacrosse・Ladder Ball・Newcombe・Parachute Games・Soccer・Speedball・Speedminton・Swimming・Tenniball・Tennis・Volleyball
Indoor Activities: Arts & Crafts・Basketball・Bingo・Rock Climbing・Board Games・Camper's Choice・Charades・Dodgeball・Freeze Dance・Game Room・Scooter Hockey
Convenient Sessions 
Classic Day Camp: eight one-week sessions from June 25 to August 17. Full range of activities with an emphasis on swimming. More info here!
Get Going Kids Camp: one-week specialty camps in art, building, outdoors exploration, and creativity. More info here!
When:
Sunday, April 8, 2018, from 12–3 pm