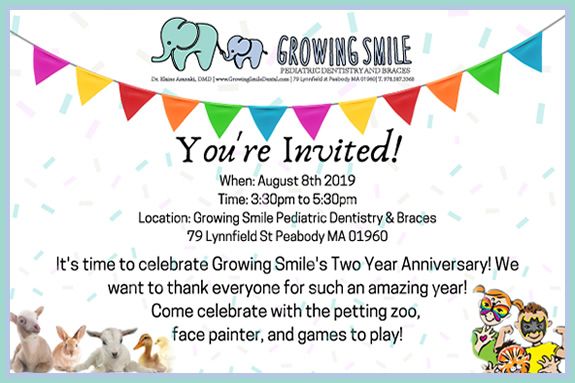 Growing Smiles Pediatric Dentistry and Braces invites you to celebrate its two year anniversary with the petting zoo, face painter, and games to play. On Thursday, August 8, 2019, celebrates its 2nd Anniversary with an afternoon honoring our staff, dentists and community.
Growing Smile Pediatric Dentistry and Braces, in Peabody MA, provides a comfortable and relaxing dental experience for your child. Our children's dentistry focuses on preventive care to give your child a healthy, natural, and beautiful smile.
Educating you and your child about good oral hygiene is among our top priorities as a board certified pediatric dentist. Get informed about the specialized procedures and methods we use to treat your child's pediatric dental needs.
Growing Smile Pediatric Dentistry and Braces provides specialized children's dentistry for your child from infancy through their adolescent years. You can also relax knowing that we're equipped to treat your child with special care needs.
Improve your child's health with professional, high quality dental care.
When:
Thursday, August 8, 2019 from 3:30 - 5:30pm