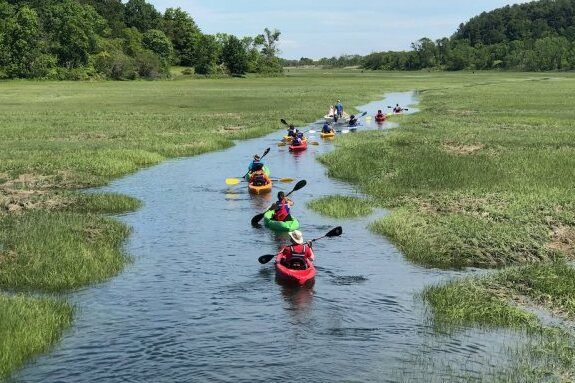 The Great Marsh—the largest contiguous salt marsh in New England—is not only brimming with fascinating natural history, it is also home to a rich cultural history. Nowhere is this more evident than in the meandering waters of Fox Creek. Connecting the tidal estuaries of the Essex River basin and the Ipswich River, it contains the oldest saltwater canal in the United States and the remains of the historic Robinson's Shipyard, where over 100 minesweepers used in WWII were once built.
This adventure offers the perfect vantage point from which to observe this unique environment and the wildlife that calls it home; the seat of a kayak. Starting at our dock in Essex Bay, we'll paddle through the Fox Creek Canal and into Fox Creek, where we'll see herons, egrets, and other shore birds nestled amidst the grasses of the salt marsh. With a little luck we might even spot an osprey soaring overhead!
Please note: Participants must be competent swimmers and age 15 or older. While appropriate for all levels of kayak skill, this trip is physically demanding.
Registration required.
Spaces limited per tour.
For ages 15 and up!
When:
Friday, August 4, 2023 1:30-5pm
Saturday, August 5, 2023 1:30-5pm
Sunday, August 13, 2023 1:30-5pm
Sunday, August 20, 2023 1-4:30pm
Monday, August 21, 2023 1:30-5pm
Prices:
TTOR Members: $72
Non-Members: $90