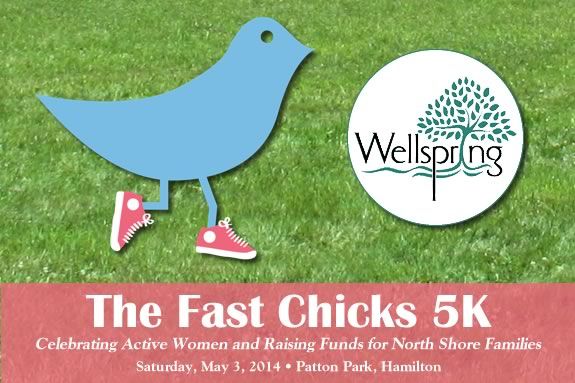 The Fast Chicks 5k is a Hamilton-Wenham Mother's Club sponsored community fundraiser race that celebrates active women and raises funds for a selected charity each year.  There's also a FREE kids race - a 100 yard dash! Now in it's third year, the race begins and ends at Patton park and funds raise this year will go to the Wellspring House, a North Shore organization based in Gloucester that empowers individuals and families to live more secure lives through basic needs assistance, education and job training.
New in 2014 - Girls 13 and under can register for only $15.  Plus the race will be chip-timed for the first time using the MyLaps Bib Tag System.
"The Fast Chicks 5K is more than just a road race," says Jessica Minnaar, chair of the race. "It's a call to action to celebrate the active roles women take as community leaders. To contribute to women's interest charities and to empower each other, our mothers, our friends, and our daughters to lead, not follow. And it's also one heck of a way to have fun!"
Although the Fast Chicks 5k is a women's only run, race organizers auction off a bib number to one wicked lucky "rooster" (male) who will get to join the field and race along side the field of women. To join the fun and submit your bid, visit the facebook page.
The Fast Chicks 5K is only possible with the support of sponsors and volunteers.  Please contact us at fastchicks5k@gmail.com to sign up to volunteer. 
Kids race is FREE - Held at 10:15am
First 300 registrants Get a FREE terrific Fast Chicks 5K t-shirt (Must Register by April 18)
Only Women will race
Rain or Shine
Age Groups: 19 and under, 20-29, 30-39, 40-49, 50-59, 60-69, 70+
Prizes will be awarded to the top three overall winners, as well as first place finishers in all age groups and teams.
When:
Saturday, May 3, 2014 9:15 am (race start - come earlier)
Kids Fun Run at 10:15am
Prices:
Race Fee: $27 ($30 day of registration)
Girls aged 13 and under: $15