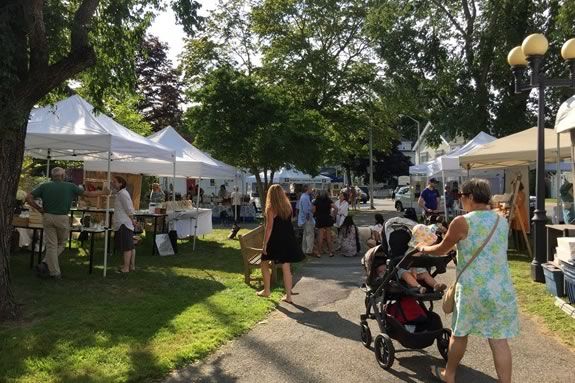 The Festival by the Sea is an annual event hosted by the Manchester Division of the Cape Ann Chamber of Commerce, this all-day extravaganza taps into the long-line of local talent with musical and artistic performers alike. Festival by the Sea is a celebration of the things that are synonymous with Cape Ann in the summertime: Art, Music & Food ! Booths will be spread throughout downtown Manchester and Masconomo Park. Your senses will be inspired by the beautiful art, extraordinary live music and the aromas of delicious, local foods.
Manchester Festival by the Sea
Tapping into the area's wealth of musical and artistic talents, the family-friendly Festival will feature live music on two stages throughout the day, culminating in an evening waterfront concert in Masconomo Park. While walking through town, visitors will be able to peruse the art and handcrafted items created by some of the area's finest artists, craftsmen, and jewelry designers.
Local restaurants will showcase some of their most tempting creations while area farmers and co-ops will be on hand with locally grown fruits and vegetables. Festival by the Sea will most definitely provide visitors with a summertime glimpse into some of the best that Cape Ann has to offer. The event, starting at 10:00 am, is free and there will be ample parking and a complimentary shuttle to and from satellite parking areas. Mark your calendar and pack your blanket for a day of great music, inspired artistry and delicious, locally grown foods.
When:
Saturday, August 5, 2023 10am-4pm