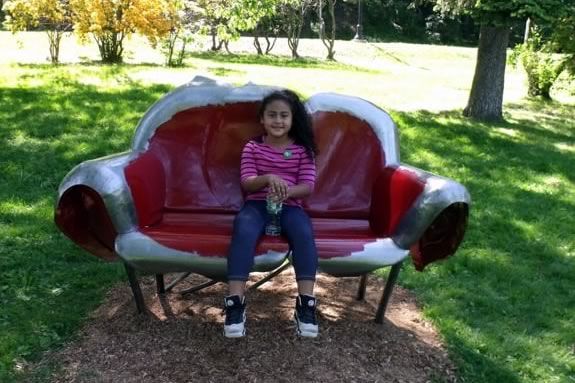 The 11th annual Flying Horse Outdoor Sculpture Exhibit will feature more than by established and emerging New England artists, all displayed on the 100-acre campus of Pingree School. Presenting art outside allows us to observe social distancing advisories while offering a delightful opportunity for viewers to enjoy a walk among 50 beautiful pieces of art set amidst the 100-acre campus of Pingree School in South Hamilton, Massachusetts. 
To keep everyone safe, we require that all visitors wear masks, remain six feet apart from other visitors not in their party, and refrain from touching sculptures or signs. The public is invited to view the exhibit during daylight hours on weekends and during holidays when school is not in session (October 12, and November 25–27).
Instead of printing catalogs this year, we are providing a free electronic guide and map via the Findful app—details to come. 
Be sure to check the Pingree web page and Facebook page for more news and information.
The complete list of participating artists includes:
Elisa Adams
Peter Barrett
David BoyajianWilliam Brayton
Joe Carpineto
Joe Chirchirillo
Josie Campbell Dellenbaugh
Sophia DiLibero
James DiSilvestro
Shawn Farrell
Joseph Ferguson
Liz Fletcher
JT Gibson
Gints Grinbergs
Mike Hansel
Vincent Hawley
Gayle C. Heney
Jacob Kulin
Madeleine Lord
Mitchel Lunin
Robert Markey
Philip Marshall
James Meyer
Eric Olson
Robert Osborne
Ursula Perry
Jenny Rangan
Ramani Rangan
Gary Rathmell
Gene Sheehan
Allen Spivack
Karin Stanley
Bart Stuyf
Phil Thorne
Robin Tost
Michael Updike
When:
Weekends, September 5 to November 29, 2020
*Open to public during weekend daylight hours when school is not in session and holidays